By C. Trent Rosecrans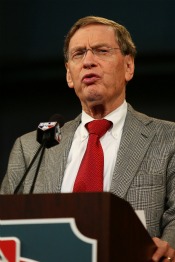 Although nobody believes it, Bud Selig has reiterated his plan to step down after the 2012 season.
Selig was recently (well, sorta recently, the interview was after last season, but before the winter meetings in December) interviewed by the University of Wisconsin alumni magazine, On Wisconsin and not only said he still plans on retiring after the 2012 season, but then plans to teach at his alma mater:
You'll have served twenty years as commissioner in 2012, and then you're going to retire, right?

I am. Now, there are many people who don't believe that, including my wife and family and most owners. They don't think I am, but I intend to spend a lot of my time in Madison. … I'll have done this job twenty years, and anybody who understands this job [knows] that's a long time — other than Kennesaw Mountain Landis, [I'll have done it] longer than anybody else.
A tip of the ol' cap (or should it be a toast, since we're talking about a Badger? Or maybe just pour out a Milwaukee's Best) to Kevin Kaduk of Yahoo!'s Big League Stew and UW alumnus of 2001.
For more baseball news, rumors and analysis, follow @cbssportsmlb on Twitter or subscribe to the RSS feed.