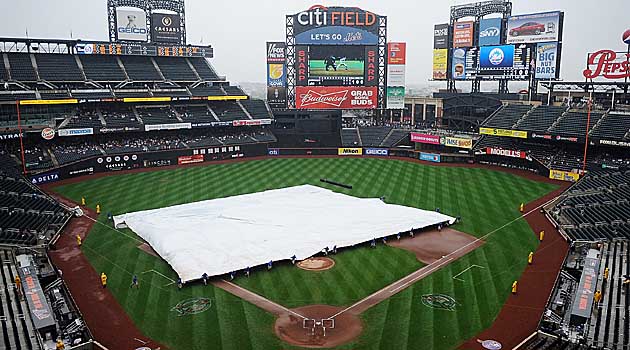 By Matt Snyder
A common refrain since the
Mets
moved into Citi Field is that the outfield dimensions cost the team loads of home runs in each given season. Notably, it's been discussed how many homers have turned into doubles for
David Wright
by several different New York reporters. Only Kauffman Stadium (
Royals
) and AT&T Park (
Giants
) have been worse for home runs this season and Citi Field ranked 27th in homers last season.
Two areas in particular that have drawn malign are the height of the left-field wall (why not have it the same height as the center-field wall?) and the well in right field (where it says "Modell's"). It feels like changing those two things would make it a pretty average ballpark for hitters.
Well, changes could be on the horizon, and not-so-small changes at that.
"If we do something, it won't be subtle," general manager Sandy Alderson said (
NYTimes.com Bats blog
), noting that changes are not definite but the Mets are looking hard at several different options.
"We're not looking necessarily to gain an advantage with respect to home runs versus visitor's home runs," Alderson said (
NYTimes.com Bats blog
). "But at the same time, I think there is some sense that the park is a little more overwhelming to a team that spends half its time there, as opposed to a team that comes in for three games, doesn't really have to alter its approach or think about it too much and leaves."
I tend to agree with him. All things equal, I'd much rather have my team playing in a league-average ballpark instead of an extreme-hitter or extreme-pitcher park. Not that it definitely determines the fate of your ballclub -- it doesn't -- but if either pitchers or hitters collectively believe they're getting screwed for 81 games, it's hard to keep a positive mentality for the whole season.
'Fan' is short for 'fanatic:'
A
Yankees
fan had the task of serving
Red Sox
starting pitcher
Erik Bedard
with child support papers Tuesday and relished in it. He wore a Yankees shirt and bragged on Facebook that he intentionally served Bedard on a day of his start (
Big League Stew
). Bedard went out and gave up five hits and four runs (though only one was earned) in 2 2/3 innings. Let's hope this fan never accuses any player of lacking professionalism, or else we've got a nice case of hypocrisy working.
Lincecum endorses Kershaw:
The
NL Cy Young vote is going to be quite competitive
, with
Clayton Kershaw
,
Ian Kennedy
and some
Phillies
likely garnering most of the votes. Two-time winner
Tim Lincecum
believes the winner should be Kershaw. "Just with the numbers he has, he's leading in a lot of categories, to put up a 20-win season is huge, especially with the team he's got. He's done a magnificent job with his year," Lincecum said after losing to Kershaw again (
Extra Baggs
). The two aces have squared off four times. Lincecum has a 1.24 ERA in those outings, but Kershaw has won all four.
Harwell's glasses are back:
In
Tuesday's Pepper
, we passed along the story that a statue of late, great
Tigers
broadcaster Ernie Harwell had been stripped of its glasses. Well, the replacement set of frames is back at home (
Detroit Free-Press
). Let's hope these stay there for a while.
Aramis' swan song:
Third baseman
Aramis Ramirez
was traded to the
Cubs
in July of 2003. He played on three playoff teams, in two All-Star games and solidified a position that hadn't been locked down since Ron Santo manned the hot corner. The Cubs have a $16 million option for 2012 on Ramirez and he has repeatedly said he wants to stay, but the feeling apparently isn't mutual. When asked if he believes this is his last run with the Cubs, he replied (
Chicago Tribune
): "Probably. There's a good chance. I'm a free agent and I don't know what's going to happen. But it looks like I'm going to hit the market."
Movie Night!
"Ferris Bueller's Day Off" was a huge hit in the 80s, and it includes a scene in Wrigley Field. It's only fitting that Wrigley's first "Movie Night" will be showing the Matthew Broderick film October 1 (
Chicago Tribune
). Bleacher seats are $10, while lawn seats are $25. That's steep for a movie that hit theaters in 1986, but would the novelty of sitting on Wrigley Field's playing surface be worth it? You make the call.
No ERA title for Cueto:
Reds
starting pitcher
Johnny Cueto
was already
suspected to be ruled out for the season
, and now he's even admitting as much (
MLB.com
). With the Reds out of the race, this wouldn't normally matter, but Cueto had a shot at leading the league in ERA. His 2.31 mark currently trails only Kershaw (2.27). The problem is that Cueto has only thrown 156 innings. In order to qualify for an ERA crown, a pitcher must have thrown at least one inning for each game his team has played. So once the Reds play game 157, Cueto falls off the ERA standings.
Rockies love Tracy, kind of:
Rockies manager Jim Tracy is signed through 2012 and his job is safe at least through the length of the contract. "Jim is signed through next year, and we'd love to have him be manager here for much longer than that. But I have gone into the last year of my contract here more than you could imagine," general manager Dan O'Dowd told
The Denver Post
. So that sounds good, right? Well, depends upon the point of view. He's not offering a contract extension, and you'll notice the comment about going into the last year of a contract. So it sounds like O'Dowd likes Tracy for now, but he's giving himself a chance to change his mind by the end of next year. And he has every right to do that.
Watch those Nats:
If you relish in the failures of the
Nationals
, you better enjoy it while you can. I've preached all season that the proverbial corner would be turned soon, with a great young base of talent and lots of money available for free agents. Speaking of which, expect the Nats to be hot after All-Star starting pitcher
C.J. Wilson
-- who is a free agent after this season -- this coming offseason (
MLB.com
via Twitter).
Saito can't get healthy:
Brewers
reliever
Takashi Saito
has been excellent this season, sporting a 1.90 ERA and 1.18 WHIP. Of course, he's only thrown 23 2/3 innings due to a series of injuries. Now he's dealing with a calf injury (
MLB.com
).
More roadblocks for McCourt:
One of the ways embattled
Dodgers
owner Frank McCourt plans to get out of his financial mess is to sell the TV rights to Dodgers games for future seasons. Well, Fox holds the Dodgers' TV rights through 2013 and has a problem with McCourt trying to negotiate a deal immediately (
LATimes.com
).
Johan's progress:
Mets' ace
Johan Santana
continues to work his surgically repaired shoulder back into shape. After throwing a three-inning simulated game Saturday, he's now slated for two instructional league games (Oct. 1 and Oct. 7). (
ESPN New York
)
Happy Anniversary:
On this day 15 years ago,
Vladimir Guerrero
hit his first career home run (
Hardball Times
). He now has 449.
For more baseball news, rumors and analysis, follow @EyeOnBaseball on Twitter or subscribe to the RSS feed.