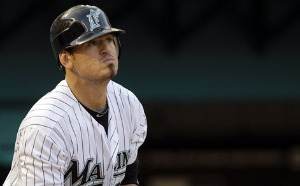 Interest in the
Marlins
'
Jorge Cantu
is heating up, with the
Rangers
making a major push for the third baseman,
reports
MLB.com's T.R Sullivan.
The Rangers have been
jonesing for a right-handed bat
that can play first base, and Cantu's added bonus of being able to play third can't hurt.
The
Rockies
are also in on Cantu as they seek to upgrade their own first-base situation. Colorado has gotten the second half off to a poor start, but with
Troy Tulowitzki
close to returning, could take off shortly. The
Denver Post
's Troy Renck also
notes
that the Rockies have their eye on Cleveland's
Jhonny Peralta
. Perhaps a consolation prize if they lose out on Cantu or the
highly sought-after
Ty Wigginton
?
Cantu has been one of the Marlins' best bats the last few years but has tailed off somewhat in 2010, cobbling together a total line of .260/.309/.412. Even allowing for facing just left-handed pitchers -- as Cantu would likely do most of the time in Texas in a timeshare with
Chris Davis
-- Cantu doesn't have an overwhelming case there as his total line doesn't have significant platoon splits. Also hurting him is the fact that the only month he's been a strong hitter is April -- he's gotten progressively worse as the season moves on.
However, the Fish may not want Cantu to be traded. They love the way he drives in runs even as he struggles, and with Florida's recent strong play, suddenly find themselves legitimately in the hunt for the NL East division crown. FOX Sports' Ken Rosenthal
reports
this, as well as the fact the club doesn't feel top prospect Logan Morrison could adequately replace Cantu in the lineup.
A more pressing question is how Morrison would fit into the defense. Cantu has primarily played third base as
Gaby Sanchez
has first base sewn up. Morrison is a natural first baseman who is collecting time in left field to boost his
versatility
. Florida could shift left-fielder
Chris Coghlan
-- a natural second baseman -- to third, a position many feel he could play.
However, is the team willing to have Coghlan learn third on the fly? Even given his history as a second baseman he has just one game to his credit at the keystone position in his two-year big-league career.
No, if Cantu is traded, one would think the new starter at third base would be -- please avert your eyes --
Emilio Bonifacio
. They could ask
Dan Uggla
to move to third, a position linked to Uggla for quite a few years. However, indications are that Uggla has no interest in such a move and given the Fish are considering trying to extend Uggla's deal, upsetting the slugger is not the right move at the time.
If the Marlins were rebuilding, it would be easier to move Cantu and not worry about who plays third for the rest of the year. Now that the team is strongly considering buying, however, a deal gets that much more complicated. At this point, it's difficult to see Cantu, Uggla and even
Cody Ross
being shipped out.
Cantu has $2 million of his salary remaining on the year which is $2 million too many for the financially-strapped Rangers. However, a judge in the bankruptcy court case against Texas said he could force MLB to extend the line of credit to the Rangers, allowing the club to add another piece. Cantu is eligible for free agency after the year.
-- Evan Brunell


For more baseball news, rumors and analysis, follow @cbssportsmlb on Twitter.