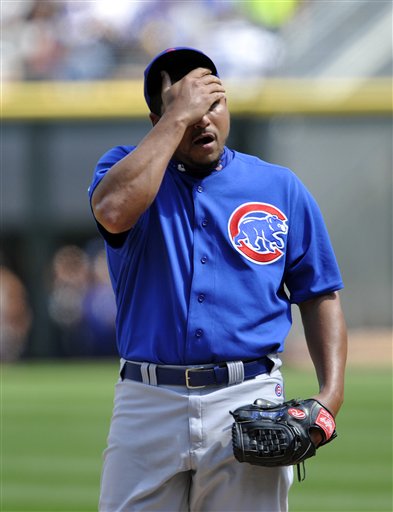 The
Cubs
were able to unload
Milton Bradley
this offseason, but they may have a bigger, more expensive problem on their hands in
Carlos Zambrano
, and it's beyond his ineffectiveness on the mound.
Friday, Zambrano blew up once again after allowing four runs in the first inning. Zambrano got
A.J. Pierzynski
to ground out to first to end the inning, and after
Derrek Lee
tossed the ball to a covering Zambrano, Big Z stomped on the bag.
Zambrano, a known head-case, began a temper-tantrum when he got into the dugout. At some point Lou Piniella said something to Zambrano and then so did Lee. At that point, Zambrano started coming at Lee and yelling at him. Lee could be seen telling Zambrano his actions were "B.S." but he didn't use initials. After Zambrano threw down a water cooler, Lou Piniella got involved again and Zambrano went to the clubhouse. As
Tom Gorzelanny
warmed up in the bullpen, Zambrano came back into the dugout.
Whether the conflict was between the two players or just Lee sticking up for the other 23 men on the team was unclear.
Juan Pierre
did lead off the game with a grounder down the line by Lee, but it appeared to be a tough play as Lee was playing in to defend against the bunt. Zambrano was lifted after one inning, four hits and the four runs -- three off a home run by
Carlos Quentin
. Gorzelanny threw 3 1/3 innings, not allowing a hit until
Gordon Beckham
's solo homer in the fifth.
Lee was the first batter of the inning and struck out. After coming back to the dugout, he sat near Zambrano. In the several TV shots of the dugout, the two were not looking at each other.
Cubs announcer Bob Brenly unexplainably said it was "good to see some emotion" and that the Cubs have been a "dead-ass team."
The difference was who was showing emotion and what that emotion was. Zambrano has had several of these types of blow-ups in the past -- plunking
White Sox
players a year ago on the Southside, a fight in the dugout with Michael Barrett, a destroyed Gatorade machine and too many tantrums to count. Brenly's partner rightfully called him on it, as Len Casper noted emotion can be good, but with Zambrano it's a tired act.
It's no secret that opposing clubs like to get to Zambrano early because they all know he can be rattled and taken out of his game, leading to big innings and ineffectiveness. He's got a reputation in opposing clubhouses as a big, immature baby.
What's worse for the Cubs, who have already demoted Zambrano to the bullpen once this season, is that they're stuck with him. He signed a five-year, $91.5 million extension with the Cubs in August of 2007. Zambrano makes $17.875 million this season and next, $18 million in 2012 and there is a vesting player option for 2013, but he must finish first or second in the Cy Young vote in 2011 or in the top four in 2012 for that option to take effect.
The Cubs can't afford to release him and nobody will touch him on waivers, so they're stuck with him, cursing the team more than any goat.
-- C. Trent Rosecrans
UPDATE:
According to a
Chicago Tribune
tweet, Zambrano was filmed screaming obscenities at local cameramen on his way out of the ballpark. The Cubs are going to love seeing that on TV ad nauseum.

For more baseball news, rumors and analysis, follow @cbssportsmlb on Twitter.