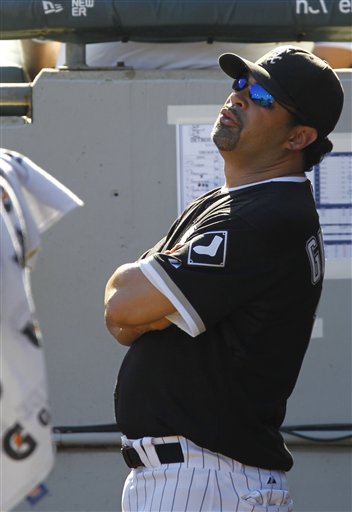 What's a day without an Ozzie Guillen rant?
Today's topic?
Jim Thome
, who hit a two-run walkoff homer on Tuesday against his old club.
The
Chicago Tribune 's Mark Gonzalez
has highlights of the reported 13-minute tirade.
Here's the basics:
"For all those people there saying it was my fault about Jim Thome, yes it's my fault," Guillen said. "If those people don't like that, [bleep] them."

Guillen reminded reporters that it was Thome who waived his no-trade clause on Aug. 31 to accept a trade to the Los Angeles Dodgers and that he's getting more playing time with the Twins recently only because slugger Justin Morneau has been sidelined since July 8 because of a concussion.

"I'm not afraid," Guillen said. "I can care less what people think. We're in second place. When Jim Thome was here, we finished third three times out of four years (actually two third-place finishes and one fourth-place ending). We went to one playoff because he hit a home run to go to the playoffs.

"Listen, I don't make that decision, we made that decision. It was hard for me to do this. A lot of people in Chicago talk about Jim Thome. How about J.D.? I think Jermaine Dye did more stuff for the Chicago White Sox than Jim Thome did, with all my respect to Jimbo.

"What's going on here? I don't get it. Why do people forget about J.D.? People don't even talk about J.D. at all. If Thome was a better player than J.D. for the White Sox, that's the answer. J.D.'s not playing for the Twins."
What's more, Guillen said the fact the game went to extra innings wasn't because his team fought back, nope, it's because Ron Gardenhire took out starter
Scott Baker
, who gave up four runs in 4 2/3 innings.
"That's Gardenhire's fault for bringing those guys [Jon Rauch, Matt Capps] into pitch," Guillen said. "He should have left that guy in that started the game and then we're still playing. I'm not running away from anybody. I don't run from anybody because I sleep very well last night, I played golf this morning. I didn't change anything. I rode my bike, go to sleep and as soon as I'm done with [this game] I'm going to go back to sleep. Same stuff."
Same stuff, different day. But it's still mighty entertaining.
-- C. Trent Rosecrans
For more baseball news, rumors and analysis, follow @cbssportsmlb on Twitter.