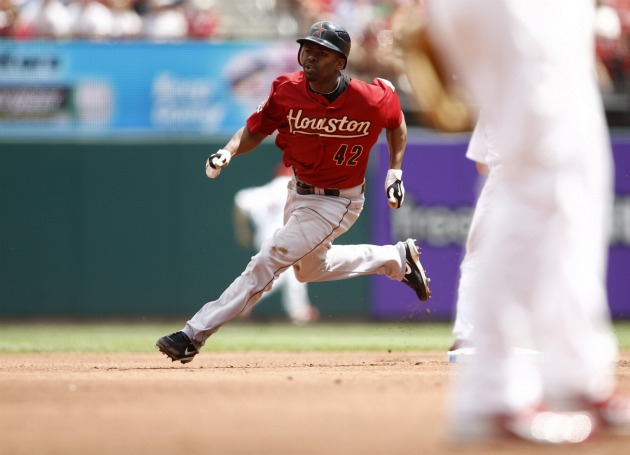 While our Eye on Football brethren are in Indianapolis for the NFL Combine not getting to watch guys run and jump, it got me to thinking how much fun an MLB Combine might be.
Among the drills the NFL draft hopefuls do that would be applicable to baseball are the 40-yard dash, bench press, vertical leap and the Wonderlic Test. So who would be the best baseball players to participate? That's where the fun begins.
40-yard dash: Maybe for baseball, it'd be more fun to line the guys up and have them go 90 feet.
Favorite: Michael Bourn, Astros. A Sports Illustrated poll of players during spring training had Crawford picked as the fastest player in the majors, but the less-heralded Bourn finished second. Bourn has won two straight Gold Gloves in center, and much of it is because he can seemingly cover the entire outfield. In a division blessed with fast center fielders (Pittsburgh's Andrew McCutchen and Cincinnati's Drew Stubbs), Bourn covers more ground than anyone. Oh, and he's led the National League in stolen bases each of the last two seasons.
Others: Brett Gardner, Austin Jackson, Luis Durango, Juan Pierre, Jose Reyes, Andrew McCutchen, Chone Figgins, Ichiro Suzuki, Emilio Bonifacio, Carlos Gomez, Carl Crawford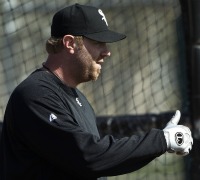 Bench press: At the combine, players bench press 225 pounds as many times as possible, testing not only strength, but endurance. For baseball, maybe the best test would be a home-run derby-like format, but adding the distances of balls hit.
Favorite: Adam Dunn, White Sox. According to HitTrackerOnline.com, Jose Bautista had more "no-doubt" home runs than Dunn (19 to 16), but Dunn's homers averaged nearly 10 feet more, with an average "true distance" of 411.1 feet. Mark Reynolds' 32 homers averaged 415.6 feet, so he's certainly in the discussion. Dunn's been consistently hitting long home runs, so he gets the nod.
Others: Josh Hamilton, Albert Pujols, Mark Reynolds, Wily Mo Pena, Mike Stanton, Travis Hafner, Russell Branyan, Jose Bautista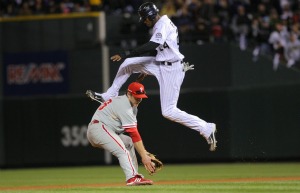 Vertical leap: While it's not something that you associate with baseball, it's a good test of athleticism, but is also practical at the wall as players just to rob home runs.
Favorite: Dexter Fowler, Rockies. At 6-foot-5, Fowler was recruited as a basketball player in high school, but he showed his leaping ability in an unusual place in the 2009 NLDS. In the eighth inning of Game 4, Fowler was on first when Todd Helton hit a grounder to Chase Utley. Fowler was running toward Utley and hurdled him. Utley then threw errantly to Jimmy Rollins and Fowler was safe. (You can see the play here.)
Others: Carl Crawford, Torii Hunter, Shane Victorino, Mike Cameron, Hunter Pence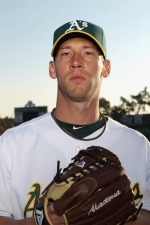 Wonderlic test: A 12-minute, 50-question test used for testing applicants for learning and problem-solving. Harvard's Pat McInally is the only confirmed 50 score at the combine, while another Harvard alum, Ryan Fitzpatrick, scored either a 48 or 49 in nine minutes. So, it makes sense to look to the Ivy League for our baseball picks.
Favorite: Craig Breslow, Athletics. Breslow graduated from Yale with a degree in molecular biophysics and biochemistry. Seriously. The Sporting News called him the smartest player in sports, while the Wall Street Journal suggested he may be the smartest man in the world. Not only that, batters hit just .194/.272/.348 against him last season, with lefties hitting .181/.245/.340 against him.
Others: Ross Ohlendorf, Chris Young, Fernando Perez, Mark DeRosa
-- C. Trent Rosecrans
For more baseball news, rumors and analysis, follow @cbssportsmlb on Twitter or subscribe to the RSS feed.