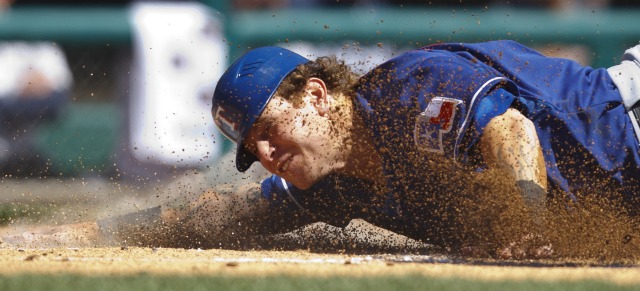 By C. Trent Rosecrans
When a MVP suffers a significant injury, it's noticed all around baseball -- and Josh Hamilton's case was no different.
Wednesday several players, coaches and managers made note of Hamilton's "mistake" of sliding head-first into home.
"It's like Russian roulette," Braves third baseman Chipper Jones told the Atlanta Journal-Constitution. "If you do it long enough, it's going to beat you."
The Braves go as far as fining minor league players $50 every time they slide head-first into home.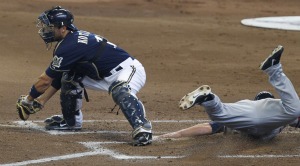 "I do it all the time," said Braves rookie Matt Young, who slid head-first at home in Milwaukee last week (pictured at right). "I'm not very good [sliding feet-first]. I mean, I can do it, but I'm not very comfortable. I feel more in control [head-first], getting to the bag and whatnot.
"I think if you go about it the right way, you're good. You've just got to go hard."
Reds manager Dusty Baker said he doesn't like his players sliding head-first into home, but he did it once as a young player.
"I had Donn Clendenon with the Mets, he called me over immediately. He said, 'Hey, kid, don't you ever slide head-first into home,'" Baker said, according to MLB.com. "This was a guy from another team that told me this. He told me, 'Jerry Grote, Randy Hundley and Johnny Bench would break your neck.'"
And that's one of the main reasons players are told not to slide head-first into home. The chance of injury against a catcher blocking the plate are higher (although, don't tell that to Robin Ventura) than sliding feet-first. That said, Hamilton's play was different. He was diving to the plate, trying to beat a catcher, also on the run, to the plate. And that catcher, Victor Martinez, was also tried to dive head-first. It seems like Hamilton's head-first slide was not the typical play at the plate, so normal rules don't apply.
"You always hear not to do it, but we've all done it," Granderson told the New York Times. "Everyone in this clubhouse has done it, even though we've been told not to. Your job is to get there any way you can."
And then there's the fact it's faster to go head first, or at least says David A. Peters, Ph.D., the McDonnell Douglas Professor of Engineering at Washington University in St. Louis, according to this article from Science Daily in 2008 (thanks to Nick Hurm of the Cincinnati Enquirer for the link.)
"It turns out your center of gravity is where the momentum is," Peters said. "This is found half way from the tips of your fingers to the tips of your toes. In the headfirst slide, the center of gravity is lower than halfway between your feet and hands, so your feet don't get there as fast. It's faster head-first."
Hamilton usually slides head-first, so in that situation, isn't his natural reaction safest?
"I remember, with us, he slid head-first a lot. Those things are going to happen," Reds third-base coach Mark Berry told
Mark Sheldon of MLB.com
of Hamilton, who played for the Reds in 2007. "All players are aware of the dangers you face going in headfirst, not only at home plate but any base.
"We've always discouraged it. In the years I've been in the game, we've always talked about never headfirst at home. Everybody talks about it. But we all know, most of us that played the game, instincts take over."
In most cases, head-first slides into home aren't the best course of action, but in this one, was it really the slide -- or the fact third base coach Dave Anderson sent Hamilton -- that's to blame? Or is it just an unfortunate incident?
For more baseball news, rumors and analysis, follow @cbssportsmlb on Twitter or subscribe to the RSS feed.