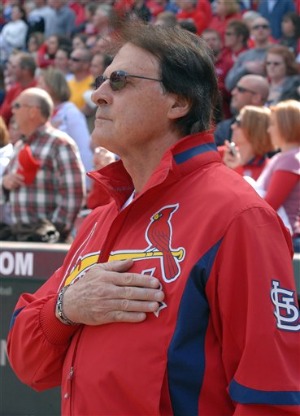 The
Cardinals
will bring back skipper Tony La Russa for at least one more year, with a mutual option for 2012, as the
St. Louis Post-Dispatch
's Derrick Goold reports.
La Russa had been considering his future since the offseason ended and took a road trip to help figure out if he wanted to return for a 33rd year. The answer is in the affirmative, so the future Hall of Fame manager will skipper a 16th season in town.
This is a no-brainer move as La Russa will return to coach
Albert Pujols
,
Matt Holliday
,
Chris Carpenter
and
Adam Wainwright
. With that collection of talent, contention is certain as long as the other positions average out to league-average.
While La Russa's decision was supposed to come sooner than Oct. 18, reports had the team and La Russa discussing the composition of the coaching staff. Those decisions have been put to rest, as every coach save for the bullpen coach will be offered contracts, including Mark McGwire.
The bullpen coach who now finds himself without a job is Marty Mason, a longtime right-hand man of Dave Duncan, as
Joe Strauss reports
for the
Post-Dispatch
. Mason's departure was announced prior to any formal announcement of La Russa's return.
Mason has been in his position for 12 seasons after serving as Triple-A pitching coach from 1997-99. Despite his longstanding affiliation with La Russa and Duncan, it wasn't enough to save his job as club sources told Strauss Mason's concern on the "integrity of the player development pipeline" is what led to his dismissal.
Regardless of any disagreements Mason may have had with GM John Mozeliak, it's still a curious move. He has presided over what has been a largely successful bullpen, ranking sixth in NL relief ERA in 2010 and fourth in 2009. He was also popular with the team's pitchers.
As Strauss writes:
Pitchers frequently credited Mason as the go-to man for mechanical issues and described the working relationship between he and Duncan as a major reason for the team's tradition of pitching success. While Duncan is typically viewed as stoic, pensive and even intimidating to some younger arms, Mason served as a folksy buffer also adept at breaking down a pitcher's delivery.
La Russa holds a 1,318-1,110 mark for the Cardinals and has 2,638 wins overall split between the
White Sox
,
Athletics
and Cardinals. If he manages for two more seasons, he will move into second place in total victories as manager, supplanting John McGraw. If St. Louis can somehow cobble together a 126-win squad -- which would be a record -- La Russa would move into second place in 2011. First place with Connie Mack is out of reach with an incredible 3,731 wins in 53 years of managing. Mack's career 3,948 losses is also safe, so La Russa would have the most wins by a manager who also won more than he lost.
MEANWHILE...
Eric Wedge was formally announced as the Mariners manager, with a press conference to come Tuesday. Wedge reportedly blew away the Mariners front office in his interviews, vaulting him over Bobby Valentine as the preferred choice.
The loss of Wedge might just be the Pirates' gain, however, as the Pittsburgh Tribune-Review points out. Rob Biertempfel notes that Wedge is much like ex-Pirates skipper John Russell in that the two don't show emotion. That was one of the major knocks against Russell, so Biertempfel wonders if the Pirates didn't dodge a bullet on losing the perceived frontrunner in Wedge.
With the Marlins seemingly poised to leap on Bo Porter, that leaves Pittsburgh with five candidates: Dale Sveum, Jeff Banister, Ken Macha, John Gibbons and Carlos Tosca. It is unknown if there are more interviews in the pipeline.
Of these five candidates, Biertempfel tabs Gibbons as the victor.
"He seems to have many of the qualifications for the gig -- a livelier personality than Russell, knowledge of what it takes to succeed in a so-called mid-market [Toronto], the ability to teach and motivate younger players, a bit of major league experience and a [I would presume] a reasonable price tag," he writes.
In the other three vacancies for the Cubs, Brewers and Mets there have not been any recent developments. Mike Quade and Bob Melvin are still the favorites for the Cubs and Brewers respectively, while the Mets want to hire a GM first.
-- Evan Brunell
For more baseball news, rumors and analysis, follow @cbssportsmlb on Twitter or subscribe to the RSS feed .