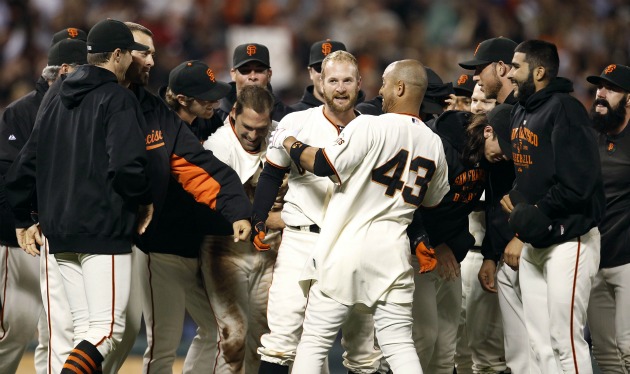 By C. Trent Rosecrans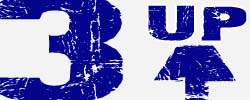 Jeff Keppinger, Giants: For the second night in a row, the former Astro did in his old team. Saturday night Keppinger singled in Mark DeRosa from second with a single just over the head of 5-foot-7 Houston second baseman Jose Altuve to give San Francisco a 2-1 victory in 10 innings. On Friday, Keppinger hit a two-run double in the fifth, good for another 2-1 victory. Keppinger came to the Giants from Houston on July 19.
Chris Young, Diamondbacks: The Diamondbacks center fielder made sure fans went home happy -- and it wasn't just the because of the bobbleheads in his likeness the team gave out before the game. Young hit a two-run homer in the fourth inning off of San Diego starter Aaron Harang and that was enough for Joe Saunders, who allowed just an unearned run on four hits in seven innings as Arizona beat San Diego 3-1 for their fifth consecutive victory.
Brad Lincoln, Pirates: The rookie right-hander not only notched his first victory of the season (and second of his career), but also had a two-run double off of Cardinals starter Chris Carpenter in the Pirates' four-run fourth. Lincoln allowed six hits and no runs in six innings, striking out four and walking one in the Pirates' 7-0 victory over St. Louis, breaking the team's five-game road losing streak.
---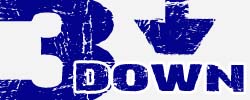 Chris Marrero, Nationals: Making his MLB debut, the former first-round pick by the Nationals saw a ball hit to him on the very first batter of his big-league career come right at him -- and by him, allowing Brandon Phillips reach in the first inning of the Nationals' 6-3 loss. Phillips scored on a wild pitch with two outs later in the inning. Phillips also scored on Marrero's second error when the Nationals first baseman fielded a double-play ball and threw it into left field, allowing Phillips to score from second, starting a three-run inning for the Reds. Despite his two errors, Marrero did manage his first hit, a single off of Reds starter Mike Leake in the fourth inning.
Royals bullpen: The day after Tim Collins walked in the winning run for a Kansas City loss in Cleveland, Louis Coleman surrendered a three-run homer to Asdrubal Cabrera for an 8-7 Kansas City loss to the Indians. With two outs in the eight and the Royals leading by two runs, Coleman gave up a single to Lonnie Chisenhall and walked Kosuke Fukudome to set up Cabrera's shot. Blake Wood also gave up three hits and a run in his 1/3 of an inning of work.
C.J. Wilson, Rangers: The same day Texas manager Ron Washington told reporters Wilson was going to be the team's horse down the stretch, pitching every five days no matter what, the left-hander gave up six runs on 10 hits and a walk in five innings. The Angels also hit four of their five solo homers off of Wilson as Los Angeles moved to within two games of Texas with a 8-4 victory.
For more baseball news, rumors and analysis, follow @cbssportsmlb on Twitter or subscribe to the RSS feed.