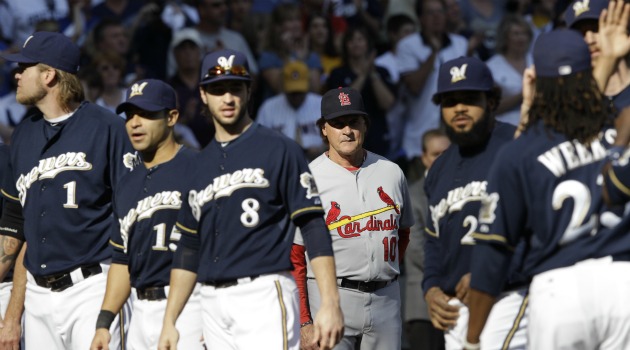 By C. Trent Rosecrans
MILWAUKEE -- The first pitch after Ryan Braun's first-inning homer in Game 1 of the NLCS came in high and hit Brewers slugger Prince Fielder. The crowd booed, home plate umpire Gary Darling warned both benches and then … nothing happened.
For all the pre-series hype about the dislike between the Cardinals and Brewers, there were no fireworks, no scuffles, no words and no fisticuffs. The fact that many expected -- or even hoped -- there may be more, rankled Cardinals manager Tony La Russa.
"I think there are some fans, or media, that are going to be disappointed if there isn't some crap flying this series, and that's a shame," La Russa said. "I don't want our payers and their players to be egged on, and I don't think they will (react). We're going to play as hard and good against each other as we can."
Players from both sides were asked about the tension -- and Darling's warning -- after the game, and it was dismissed.
"Every team you play at the end of the season is going to be a rival -- Pittsburgh, Cincinnati, Philadelphia -- they're going to be rival because we have to win games," Pujols said. "You guys are the ones who are building everything up, I said that yesterday. You try to pick and fire up this series. I don't think we need the media to fire up this series. Everyone's going to be ready to play, this is the postseason. Whatever happened in the regular season, you turn the page and you can't let that come into the postseason."
Nobody seemed to think Garcia's pitch was intentional -- and they certainly didn't after he followed the plunking of Fielder with four straight balls to Rickie Weeks and 10 total pitches out of the strike zone.
When asked if he thought Garcia hit him on purpose, Fielder said, "no, not at all."
Still, Darling may have been trying to set a tone, to let both sides know that if anything happened, there would be quick action from the umpires.
"I'm sure the umpire and crew knows it (wasn't intentional), we've had our disagreements. But the guy hits a home run, the next guy gets hit -- I certainly can't fault the umpire," La Russa said. "But you know, you can't go out and argue those things, or you get thrown out. I didn't say anything. What I would have said is, if you watched the way Jaime pitched that whole inning, every fastball he threw was in that same area, out away from the right-hander or in on Fielder. They just looked bad, but he was just trying to get the ball somewhere near the glove. But I don't fault the umpire."
While La Russa had no problem with the umpire, he's not real happy about the constant talk of a rivalry from those covering it.
"I think it's a real disservice to the competition," La Russa said. "I think both teams have talked about with what's at stake here, we're going to compete as far as we can correctly."

Still, Brewers starter Zack Greinke, who said Saturday that the Brewers players didn't like Cardinals starter Chris Carpenter, said he did hear Cardinals' players yell at him from the bench, but that's hardly unusual in baseball.

"They're yelling from the dugout some, but most teams do that," Greinke said. "Everyone always makes fun of me grunting when I throw a fastball. It's kind of funny sometimes, but no big deal."
La Russa, Pujols and others can try to deflect it as much as possible, but there is a palpable dislike between the clubs and a clear difference of approach and philosophy in how the game should be played. While La Russa said things will happen when you play a team 18 times in a season, they seem to happen more to the Cardinals and any team that challenges them in the division, be it Cincinnati in 2010 or Milwaukee this season. It may be the right thing to deny there are any hard feelings, but it's obvious that it's not just the media that feels something could erupt at any moment -- Darling did as well, and that's why there were warnings.
For more baseball news, rumors and analysis, follow @cbssportsmlb on Twitter or subscribe to the RSS feed.