Posted by C. Trent Rosecrans
You hear so often not to read too much into spring training results, especially early in the season. With established starters, this can be even more important to remember.
This early, many pitchers are working on specific things, not worrying about the results.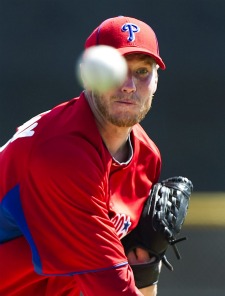 Here's bits from three different established starters saying they only threw fastball and changeups.
Roy Halladay told David Hale of the News Journal that he wouldn't throw anything more than those two pitches until after three starts.
That said, he's working on a couple of other things.
"There's a couple of things I want to try, but for the most part, the biggest thing is just getting back comfortable," Halladay said.
He gave up two hits and a walk, striking out one batter in two innings on Monday.
New Cubs starter Matt Garza didn't have equal results with a similar repertoire, allowing five runs and five hits, including a grand slam by Coco Crisp in two innings.
"It's spring," Garza told Yahoo! Sports' David Brown. "I wasn't throwing any breaking balls today. It was mainly fastball and changeup. My location was off, but like I said, it's spring. At least the ball felt good coming out of my hand. It felt like I was very explosive toward home plate. Everything that needs to be there, is there."
New Brewer Shaun Marcum's results were between the two -- allowing four hits and two runs with three strikeouts -- but his arsenal was the same, just fastballs and changeups.
"I felt pretty good; just missed location with a couple of pitches," Marcum said, according to Tom Haudricourt of the Journal-Sentinel. "I wanted to work on throwing inside to left-handers. I struggled with it in batting practice. Obviously, it needs more work because we didn't get it in there today."
I've had pitchers tell me they'll go into a spring start concentrating on just one pitch, or one location -- and while older batters will sit back and track some pitches just to try to see more pitches early in the spring, while younger players hoping to make the club will pay attention to that and jump on a veteran pitcher. That's why the boxscores don't matter much in Florida and Arizona, this soon. But the time to start paying attention isn't too far around the corner.
For more baseball news, rumors and analysis, follow @cbssportsmlb on Twitter or subscribe to the RSS feed.