Posted by Andy Benoit

1. Favre Favre Favre Favre Favre

Two things about the Brett Favre hoopla:

a.) You like it. Even if you're part of the vocal majority that loves to groan about how much you don't like it, deep down you really do like it. Or, in the very least, you like that you don't like it. You like that you can pretend to be above it all. But you're not. None of us are. That's why we all watched with keen interest Sunday night.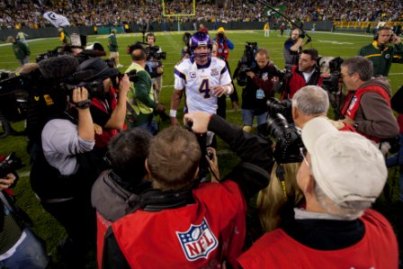 b.) As someone who loves the Favre hoopla, I'll admit that it does distract from all the other storylines. That's why we'll take this opportunity to acknowledge those storylines here. They include…

**The Vikings are now 2-4 and go on the road to face the Patriots next week. Thus, we can crank up the "Is it all over in Minnesota?" talk again this week. It will take about 24 hours for that storm to gather, but make no mistake: it's coming.

**Those of us who decided Chris Johnson is a better running back than Adrian Peterson may have to reconsider. Johnson was the better running back in 2009. But in 2010, Peterson is averaging an NFL-best 114 yards per game on the ground. Each of his 131 yards against the Packers was a testament to the very concept of manhood. In his fourth season, Peterson has improved in all of his areas of weakness. His fumbles have disappeared. He's shown more awareness in blitz pickup (did you see the block he had on the Visanthe Shiancoe touchdown that was ruled not a touchdown but probably should have been ruled a touchdown?). And he's a factor in the passing game (two crucial catches for 41 yards Sunday night, and he was averaging three catches per game coming into Week 7).

**I'm not going to issue a full mea culpa on my Matchup breakdown for a second consecutive week, though I will say the Vikings offensive line performed much better than expected. John Sullivan is finally healthy at center, which stabilizes things at least a bit. Bryant McKinnie had one of his better games of the season (his name wasn't called once against the Packers). That said, Sullivan and McKinnie still cannot be fully counted on week in and week out.

**I will actually issue a mea culpa to Anthony Herrera. He played so well Sunday night, particularly in generating movement to the left as a run-blocker – than whatever criticism I laid on him last Friday has been rendered moot (or just plain incorrect) for at least the next two weeks.

**Bernard Berrian is a shell of his former self. If a person were to lose weight with the same speed and decisiveness that Berrian has lost confidence, we'd give him or her a pamphlet about eating disorders.

**For the past four months or so, Paul Charchian of KFAN and I have had an on-going debate about Jared Allen. My stance: Allen is a top five defensive end. Charch's stance: Allen, in the past year and a half, has become overrated as a pass-rusher, and he only turns in major production against inferior competition.

The Packers deliberately game-planned for veteran left tackle Chad Clifton to block Allen one-on-one Sunday night. Clifton easily shut Allen out. I haven't conceded the debate to Paul just yet, but in our next few email exchanges, my arguments will at least be ending in more periods and fewer exclamation points.



2. Prognosticators, just quit now

In this week's preview podcast, Will Brinson and I clumped the Saints-Browns, Ravens-Bills and Broncos-Raiders game into one quick segment that lasted all of 10 seconds. We didn't feel it was worth spending part of our 30 minutes previewing these games because the outcomes, we figured, were predetermined.

As it turns out, Drew Brees threw four interceptions, two of them resulting in scores to David Bowens, and the Saints were never really even in it against the Browns. (When you consider that the Steelers are visiting the Big Easy next Sunday for a nationally televised Halloween night showdown between the past two Super Bowl champions, it's obvious that this was a classic trap game. Why did we not at least recognize that before!?)

The Bills, facing a stingy Ravens D and led by a Harvard quarterback whose three greatest attributes – heart, grit and guts – are euphemisms for his overwhelming lack of talent, generated 506 yards of total offense (or, in Buffalo terms, "a half season of offense"). If not for a Hall of Fame play by Ray Lewis in overtime (the strip fumble of Shawn Nelson), we might not be describing the Bills as "the league's last winless team".

By the way, regarding that strip fumble, what a poor sequence of events for Bills center Geoff Hangartner. The play would have almost certainly been blown dead on forward progress had Hangartner not come in and pushed Nelson and the pile forward for a few extra yards (it was during those extra yards that Lewis stripped the ball). Can't fault the veteran captain Hangartner for the extra effort, though. Nineteen times out of 20, an effort play like that pays off. But you CAN fault Hangartner for exacerbating the mess by slamming his helmet on the ground afterwards. That resulted in a 15-yard penalty to help put the Ravens in range for Billy Cundiff's game-winning field goal.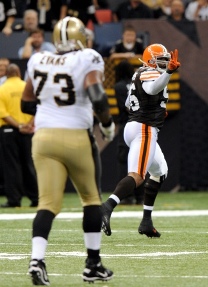 Finally, regarding the Broncos-Raiders game: nothing much to say, other than the Broncos apparently talked among themselves about the league's new emphasis on illegal hits and decided, just to be safe, they wouldn't hit any opponent under any circumstance Sunday afternoon.

That obviously included Darren McFadden, the Raiders' third-year running back who is finally coming into his own. Credit Oakland for using McFadden more to his strengths this season. He is not a physical runner, and he does not have agile hips and power to press a hole and consistently move the chains inside. McFadden does, however, have the acceleration and breakaway speed to be a force in space, which is why the Raiders have taken to running him off tackle and on halfback tosses more often. After his career-high 165-yard, four-touchdown performance Sunday, McFadden is averaging 111 yards per game on the ground, second best in the NFL.

So the Browns pound the Saints, the Bills take the Ravens to the limit and the Raiders, behind 328 yards rushing, hang 59 points on the Broncos. It's the NFL; those of you who can guess what I'm going to say next, don't worry – I have too much respect for CBSSports.com readers to use clichés about parity and "any given Sunday". I'll just say, good action, fun games.


3. Picked!

Let's stay with the Browns-Saints game for a second so that we can talk about David Bowens. Yes, it's impressive for any player to return two interceptions for touchdowns in the same game. (Bowens is the first Brown to do it since Bob Franklin in 1960.) More impressive is that Bowens, 33, is a former defensive lineman turned linebacker. But even MORE impressive is how he celebrated both scores. On the first TD, Bowens leaped and performed somewhat of a Pas de Chat while crossing the goal-line (it's a ballet term – use your Wikipedia). As gracefulness goes, it was about a seven.

On his second score, Bowens came to nearly a complete stop before somersaulting across the goal-line. The gracefulness of that was a one-and-a-half, maybe a two. But the cleverness? A 10. Best of all was the half-second of reluctance the ref showed before signaling touchdown on that play. You just know he wanted to flag Bowens for taunting. But thankfully, it was during live action, and this is not college, so he couldn't. (Don't worry, purists, the NFL will probably make somersault touchdowns a suspendable offense within in the next few days.) Bowens had just one career touchdown coming into this game. Major props to him for having the presence of mind (and gall) to come up with two original celebrations on the fly like that.

In all, there was a record nine pick-six's on the day Sunday. (I'm sure I'm the only one who cares, but for what it's worth, when I first heard this, I was able to immediately remember/visualize eight of those pick-six's; out of pride, I refuse to look up the one I'm forgetting.) One of those pick-six's was turned in by DeAngelo Hall. Hall's 92-yard interception return was just one of his four – FOUR! – second-half interceptions.

That's a great accomplishment. And, quite frankly, it couldn't have happened to a more obnoxious guy. Hall had a great game, but poor Jim Haslett now has to deal with the even-more-inflated ego of a cornerback who has no problem publicly demanding a bigger role in the defense or questioning the scheme.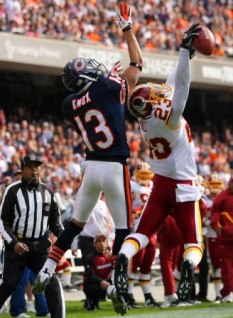 I hate to be negative about Hall when he's just had the game of his life, but a week ago experts were saying that the film was revealing the slight diminishments in his speed. Hall's man coverage technique can be iffy, and his tackling – though excellent against the Bears – is generally poor. I bring this up only because you're going to be offered an awful lot of DeAngelo Hall Kool-Aid this week.


4. Da Bears

While we're on the topic of Hall and this game…

Bears fans, I assume, will have no problem this week if I go ahead and point out that their team is still a mess offensively. No need to rehash everything here. We all know the Bears aren't running the ball worth a cent right now (the debate is whether you blame Matt Forte, Mike Martz, the offensive line or all three). The pass protection has been poor – unless, for some reason, you consider blowing simple assignments a key asset, in which case the pass protection has been superb. Guard Chris Williams was particularly shaky Sunday.
Finally, there's the standard Jay Cutler scrutiny. Cutler made some spectacular strong-armed throws in this game, but he's not the type of quarterback who can thrive when players around him aren't performing. Thus, if the blocking doesn't get better and receivers like Devin Hester and Johnny Knox don't become more consistent in their technique, the Bears will only continue to flounder. It wasn't until just over four minutes to play in the third quarter against Washington that Cutler ended an 0/28 drought on third down.


5. A lesson for the kids: it's okay, maybe even good, to get in fights

Sorry, but what else can you deduce here? Kenny Britt gets in a bar fight at 1:45 Friday morning. It isn't his first off-field incident, so the NFL could wind up suspending him soon. With this dark cloud hanging overhead, Jeff Fisher benches Britt for the first quarter against the Eagles. All Britt does is go on to set a Titans franchise record (not Oilers, just Titans) with 225 yards receiving. He also scored three touchdowns. All this just days after getting in trouble. Coincidence…or pure genius?

Actually, Jeff Fisher says coincidence. "His performance has absolutely nothing to do with what happened [Friday], OK? Absolutely nothing," Fisher told reporters after the game. "It was a great performance. I mean, an outstanding performance. It is two separate issues right now."

Fisher may further punish the second-year pro once he learns more details of the fight. Britt is probably rooting for that, as a punishment from Fisher would likely mean he wasn't punished by the NFL or Nashville authorities (which could still happen).

Britt has now caught a touchdown in five straight games. However, prior to Sunday, he had only topped 45-yard receiving mark once. (You didn't know 45 yards was a mark, did you?)


6. The NFC's best wide receiver

Larry Fitzgerald used to hold this title. But through no fault of his own, that title is now out on loan until the Cardinals get a real quarterback. (Looks like they could be going back to Derek Anderson now that Max Hall, who left the loss at Seattle with a head injury, has had a fair chance to show everyone why he wasn't drafted.)

With Fitzgerald gone, the best wideout in the NFC is Roddy White. (Sorry, Miles Austin fans.) Entering Week 7, White led the conference in receptions and yards. His 11-catch, 201-yard performance against the Bengals only w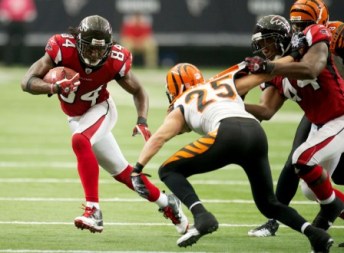 idened his lead. If you were to put White's six-year career on a line graph, it would come out looking a lot like Facebook's traffic numbers over that time. The former first-round pick has progressed in each season as a pro.

This week, White made no bones about wanting to steal the spotlight from Terrell Owens and Chad Ochocinco. He even starred in his own homemade trash-talking video. On Sunday, he backed it up, proving to be an elite vertical threat, underrated possession target and vastly underrated run-blocker (White's not Hines Ward, but he's close.). Most noteworthy is how White bounced back with a touchdown and two-point conversion after Adam Jones ripped the ball away from him in the third quarter for what seemed to be a momentum-shifting 59-yard fumble return for a score.

White was the main reason Atlanta won Sunday, though also give credit to Michael Turner and his downhill tackle-breaking abilities. Turner, capitalizing on Atlanta's offensive line beating Cincy's defensive line for most of the day, racked up 121 yards and two touchdowns on 23 carries.



6B. On that note….what's the deal with Cincy?

The Bengals, meanwhile, have Dallas Cowboys Syndrome: talented team that plays well on paper, but at the end of the day, somehow still loses. Carson Palmer was a surgeon, throwing for 412 yards and orchestrating a hurry-up offense that took advantage of Atlanta's fairly rudimentary zone scheme. Cedric Benson was phenomenal in setting up his blocks and creating his own space (his 70 yards on 20 carries don't accurately illustrate his performance). The Bengal defense was poor, but the offense overcame that in the third quarter, going up 25-24 after trailing 24-3 at the half.

So what gives? Hard to say without studying the film. But we do know, on the surface, the Bengals, like the Cowboys, have a very hands-on owner, a head coach with tenuous job security (Marvin Lewis is in the final year of his contract) and a bunch of talented individuals but no clear cut leader (admittedly, I'm a little uneasy implying here that Palmer isn't a leader – but that's a whole other discussion best saved for another time).


7. It could be worse

The San Diego Chargers were out to prove to the world Sunday just why they're a legit 2-5 team. The Chargers had three turnovers (it was actually four, but Philip Rivers' interception to Devin McCourty was essentially the same as a 36-yard punt, so we won't count it), including Richard Goodman and Jacob Hester fumbles that truly embodied the term "giveaway".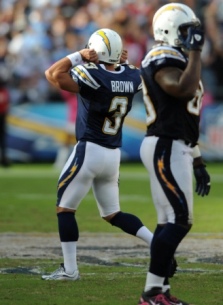 After making his first career catch, the undrafted rookie Goodman went to the ground, wasn't touched but, thinking the play was over, let go of the ball. "I'll be the first one to admit that it was my fault," Goodman said afterwards. "I've got to learn from my mistakes. After making that catch, I've got to give it back to the ref." (Since he wants to learn from the mistake, someone should probably tell the poor guy exactly what the mistake was: it's not about handing the ball to the ref, it's about making sure you're actually down). Hester's fumble is a little harder to criticize, as even the Patriot players thought it was an incomplete forward pass. The man who should get credit for the recovery is Pepper Johnson, New England's defensive line coach who was standing on the sideline and shouting at his oblivious players to jump on the loose ball.

The two gimme fumbles were costly, though not costly enough to prevent the Chargers from attempting a game-tying field goal in the closing seconds. Kris Brown, who was signed to fill in for injured Pro Bowler Nate Kaeding earlier in the week, would have had a 45-yard attempt if not for a Louis Vasquez false start. After that penalty moved the Chargers back five yards, Brown's 50-yard boot hit the right upright. Mind you, this came after Brown's second errant pooch kickoff of the day went out of bounds (his first errant pooch kick hit a Patriot and came out looking like a horrendous onside attempt). The Chargers also missed a few tackles on a 34-yard Julian Edelman punt return that helped set up a Patriots field goal to end the first half.

To be fair, the Chargers did get a great special teams play when they recovered a surprise onside kick in the fourth quarter. But in the end, turnovers, special teams errors and a few penalties cost Norv Turner's club. (This is a sentence that could have been copied and pasted from any number of previous 2010 Chargers stories.)


8. Kudos to FOX studio analysts

Normally I wouldn't do this, but the FOX studio analysts deserve acknowledgement for their late shift Sunday. They didn't have to stay any later than usual, but they did have to stick around and do a halftime show for the Cardinals-Seahawks game, even though that was the lone late window contest on FOX. That must have been rough. Think about it: only the states of Arizona, Alaska, Oregon, Washington, Idaho and parts of Montana, Kansas, and tiny parts of Florida and Ohio, got that game. This means FOX's big dogs spent an entire afternoon at work just so they could talk for two or three minutes about what amounted to a locally televised contest. How tempting must it have been for Curt, Terry, Howie, Michael and Jimmy to simply record a generic halftime report at the end of the early window games so that they could just head out and enjoy the rest of the NFL action from the comfort of their living or hotel room?


9. Being an American pig

Call me jingoistic, but I'm glad the British are getting an absolute clunker of a game next week (the 1-6 Niners face the 2-5 Broncos in London). I know I'm not doing myself any favors with the folks at 280 Park Avenue by saying this, but I can't stand the NFL sharing any part of its regular season with our friends across the pond.

We have our football and they have theirs. If we share ours, they're going to eventually realize how boring theirs is. Then they'll be clamoring for more and more of ours, and the league will oblige because, dammit, it's a business and there's money to be made. Before we know it, we'll be forking over a significant piece of our great American sport.

Is this fear talking? You bet. But the football gods don't want the NFL to go international, either. That's why they've done their best to make the Broncos-Niners game as unattractive as possible. What's funny is that the 49er fans who have been chanting for David Carr over Alex Smith may actually get their wish, but they won't get to see it because the Niners' home game won't be in Candlestick.

And on the subject of chanting for the backup quarterback…if you were one of the Bronco fans chanting for Tim Tebow in the first half Sunday, you're a moron. Kyle Orton, like the rest of the Broncos, was not good against the Raiders. But he's nowhere remotely close to deserving a benching.


10. Quick Hits

**Josh Freeman has now led two game-winning drives in the closing seconds of a fourth quarter (vs. Rams and vs. Bengals). The Bucs are 4-2 and, according to Raheem Morris, the best team in the NFC (insert laugh track audio here).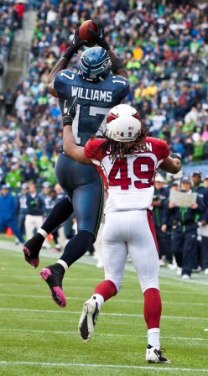 **Marshawn Lynch (24 carries, 89 yards) looks a little trimmer than I remember. He's proving to be a very solid pickup for the Seahawks.
**For the second straight week, Seattle's Mike Williams set a career-high for receptions (10 last week, 11 this week). Williams has incredibly strong hands and, for a 6'5", 235-pounder, uncanny body control.
**The Jaguars' biggest problem remains their tendency to give up big plays. Dwayne Bowe (two touchdowns) proved this, as did Thomas Jones and Jamaal Charles.
**For what it's worth, Devin Hester cut his dreadlocks. He also had zero punt returns Sunday because the Redskins wisely refused to kick anywhere near him.
**It came in a losing effort, but Israel Idonije had a terrific game for the Bears. He was a big reason why Donovan McNabb was uncharacteristically off kilter.
**The Redskins have scored 17 points or less in all four of their wins this season. This is remarkable considering they entered Sunday with, technically speaking, the league's 32nd-ranked defense.
**It was surprising to hear that Roger Goodell actually called James Harrison this week.
**Even if this is only Quick Hits, I refuse to mention anything specific about the Panthers-49ers game.
**Imagine if the Chargers had won – then we'd all have to recycle the "Belichick going for it on fourth down" debate. Glad we don't. (Though in case we do, my stance: it was absolutely the right call, just like last time; the problem on this particular play was BenJarvus Green-Ellis not trusting his blocks and bouncing it outside, where end/linebacker Antwaun Applewhite, who had a marvelous game, made the play.

For more NFL news, rumors and analysis, follow @cbssportsnfl on Twitter and subscribe to our RSS Feed .