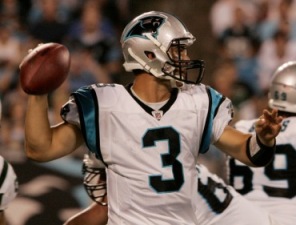 Posted by Josh Katzowitz
So far this preseason, the Carolina quartet of quarterbacks has been unimpressive.
Matt Moore
was the expected starter coming into the season – we thought he would have to be absolutely terrible to get passed on the depth chart – followed by some combination of
Hunter Cantwell
and rookie
Jimmy Clausen
. Then, the fourth-stringer was
Tony Pike
, and it wasn't out of the question that the
Panthers
would try to keep all four quarterbacks.
Now, the Panthers would settle for just one quarterback who can play productively.
As Steve Reed of
PanthersGrowl.com
asks, is it time to panic yet?
It may be, because this preseason is beginning to look remarkably similar to last year's preseason.

And that's not good.

The Panthers managed just one touchdown pass during a winless 2009 preseason and the problems in the passing game carried over into the regular season resulting in three straight losses to open the season. The Panthers never recovered and finished the season 8-8 and out of the playoffs one year after winning the NFC South.
So far, the quarterback ratings of Moore and Clausen are pathetically tiny, stuck in the mid-30s. Coach John Fox doesn't seem concerned, but Moore understands that there's still plenty of aspects of their game that need to be fixed.
"We need to keep working," Moore said. "There are plays there that need to be made and we're capable of making them. We're just going to keep grinding it out and keep working on it and take these next two preseason games and keep learning and be ready to go in Week One."
Moore, who went 4-1 last year after replacing
Jake Delhomme
, was expected to hold down the starting job until Clausen was sufficiently ready – maybe not this year, but probably next season. It's still the preseason, but if Moore doesn't improve, it might not be a terrible idea to start Cantwell.
Actually, that wouldn't be a very good idea at all, but at this point, that's probably a better option than throwing Clausen into the mix so early in his career.
In reality, Moore, even if he continues to struggle, will start, and the Panther will just have to see how it goes.
For more NFL news, rumors and analysis, follow @cbssportsnfl on Twitter and subscribe to our RSS Feed .