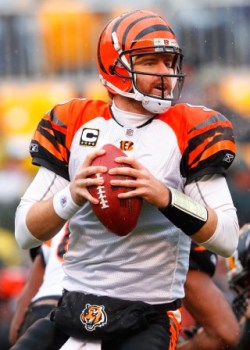 Posted by Josh Katzowitz
It sounds like
Bengals
QB
Carson Palmer
is adamant about not returning to Cincinnati to play football. As in really,
really
adamant.
According to my buddy,
Dennis Janson of WCPO,
Palmer told a confidant that "I will never set foot in Paul Brown Stadium again. … I have $80 million in the bank. I don't have to play football for money. I'll play it for the love of the game but that would have to be elsewhere. I'm prepared to live my life."
So, that sounds like he's serious, and he makes a good point. He has tons and tons of money – in 2005, he signed a six-year extension worth about $118 million – and after starting at QB for the Bengals for seven seasons, he's probably determined that he just doesn't need the aggravation anymore.
That's not to say he wants to retire if he can play for another team. For a squad like the
Cardinals
– who brought us the trio of
Derek Anderson
,
John Skelton
and
Max Hall
last season – Palmer could be a useful player.
Normally, owner Mike Brown has a habit of saying, "Screw you," (but in a nicer way) to players who demand things, like trades, to him.
Chad Ochocinco
knows what I'm talking about. But apparently, the Bengals think Palmer is serious.
And they'll most likely want to get some kind of return on their investment, so they might very well listen to trade offers for Palmer.
By the way, I assume if Palmer is playing for another team that has to play a road game in Cincinnati, he will actually show up at Paul Brown Stadium on gameday. But, if he can get that written into a new contract, maybe not.
For more NFL news, rumors and analysis, follow @cbssportsnfl on Twitter and subscribe to our RSS Feed .