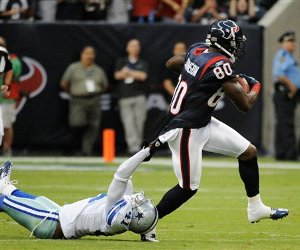 Posted by Josh Katzowitz
It's not all that often that a coach is so upset with his team that he threatens to play the starters in the fourth and final exhibition game before the regular season begins. Since taking over Dallas in 2007, Wade Phillips certainly wasn't the kind of coach to make that decision.
But Phillips was so disgusted by what he saw in the
Cowboys
23-7 loss to the
Texans
Saturday that he's thinking about doing exactly that (even if owner Jerry Jones isn't all that concerned
with the poor showing
).
"I'm not ruling out that we won't play our guys," Phillips told reporters after the game, including the
Dallas Morning News'
Gerry Fraley. "We have to evaluate this."
The evaluation will probably read something like this: Dallas stunk out loud against the Texans, and for a team that is so ready to return to the Super Bowl, that's not a good trend to start.
The defense allowed Texas' running backs to average 4.8 yards per carry, and the Cowboys gave Houston permission to do pretty much whatever the Texans wanted. And the offense? Well, the offense wasn't so swell either.
Fraley explains:
In five full series, the first offense produced zippo. For 12 full possessions in the exhibition season, the first offense has managed 13 points on a touchdown and two field goals. The touchdown capped an 8-yard drive against San Diego.

No wonder offensive coordinator Jason Garrett acknowledged the first offense probably will play some against Miami. It needs the work.

"We had too many mistakes," quarterback Tony Romo said. "We need to get better."

Romo was actually a highlight, completing 13 of 18 throws with drops by wide receiver Miles Austin and tight end Jason Witten. The Cowboys again had nothing resembling a ground game.
Even so, it's hard to imagine Phillips putting his first team units at risk in the final tuneup before the season begins. Maybe he'll play them a series. Two, at most. Anything else would not be very smart. Especially because we know how Jerry Jones feels about Cowboys
who suffer injuries in practice
.
For more NFL news, rumors and analysis, follow @cbssportsnfl on Twitter and subscribe to our RSS Feed .