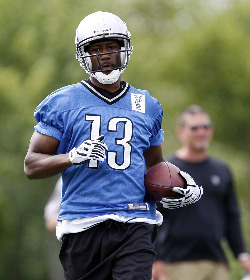 The idea that the
Lions
could have the "most respected receiving corps" in football seems kind of ludicrous, no?
But it's something that
Nate Burleson
, the high-priced free agent addition to the Lions, thinks could happen. At least that's what he told
John Niyo of the Detroit News
.
"I want to be the best receving corps in the NFL," he said today, when asked about the Lions' improved WR group. "You hear a lot about T.O. and Chad Johnson and what they got going on in Cincinnati. But I'm gonna say firsthand that we will be the most respected receiving corps after it's all said and done. ... That's what we work for. You think about the guys that we got here -- Calvin, myself, Bryant. You talk about height, speed, strength, playmaking ability, youth. We're gonna come out and prove that the Detroit Lions, we're ready for competition."
Now, again, I think it's kind of far-fetched -- but Burleson
might
have a point, provided we're not just talking one-two punches here. (If that's the case, he's got a longer line than just the
Bengals
to stand behind.) After all
Calvin Johnson
is as good a stud as they come. And, conveniently, Burleson also pointed that out.
"You talk about height, speed and strength, the ability to jump at his size and run routes like a slot receiver? I keep saying it, and I'll say I probably until I'm done playing with the Lions, he's the closest thing to
Randy Moss
. And in my eyes, Randy Moss is one of the biggest threats in NFL history."
Strong words, indeed. But do the Lions really qualify as a candidate for the best wide receiver corps in the NFL?
Actually, Moss would probably lead the first trio that I'd pick, off the top of my head, over Detroit (and Cincy), when you combine him with
Wes Welker
and
Torry Holt
. Houston (
Andre Johnson
,
Jacoby Jones
,
Kevin Walter
) probably stands out as better too, but I'm freakishly high on the freakishly athletic Jones this year.
Regardless of any disdain for VH1, it's probably tough to slot the Lions above the Bengals at the moment, either, and I'm confident the
Colts
(
Reggie Wayne
,
Pierre Garcon
,
Austin Collie
) and the
Saints
(
Marques Colston
,
Robert Meachem
,
Devery Henderson
) are a better overall group too.
As are the
Giants
, the
Eagles
and the
Vikings
.
Interestingly enough,
when Josh and Andy did their wide receiver rankings
, they actually named their top duos (caveat being that a top-five guy couldn't be included).
So, long story somehow made longer: I'll probably spend all Tuesday morning tomorrow ranking the various wide receiver corps simply because Nate Burleson is optimistic about the Lions in 2010.
-- Will Brinson
For more NFL news, rumors and analysis, follow

@cbssportsnfl

on Twitter

and subscribe to our

RSS Feed

.