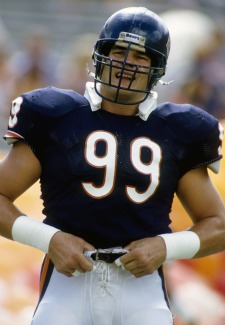 Posted by Josh Katzowitz
When the 1985 Super Bowl winning
Bears
visited the White House on Friday for the first time to celebrate their 25-year-old victory, at least one decided to stay away.
That would be Dan Hampton, a Hall of Famer who texted to
ESPN Chicago
that he didn't want to go, in part because his family couldn't be there with him. But in an earlier radio interview with WSCR 670 in Chicago, he let on there were a few more reasons he had declined the invitation.
"It's my own personal choice," Hampton said. "I don't choose to go. No family, no kids. Honey's going to the White House, and you tell your kids and your wife, 'Oh, I'm sorry. You're not invited.'
"Secondly, I'm not a fan of the guy in the White House. And third, it was 25 years ago. Let it go."
True, it was a quarter-century ago, but the Bears -- of whom President Obama is a big fan and is probably the only reason Chicago is finally getting its presidential visit -- never got their White House celebration because of the Challenger explosion in January 1986. Hampton's decision seemed to offend another member of that squad, Steve McMichael.
"They said, 'Are you going?' Because there are a couple of my teammates that aren't going to make the trip," McMichael told ESPN Chicago. "But let me tell you something, I don't care who the president is. I don't care what's going on in the government, if I'm against a war or what. If you are somebody that the White House wants to honor, and you're a citizen of this country, it behooves you to show up and look at it like an honor and a privilege.
"I told them I'm going to have bells on."
This has become a trend lately. As
CBSSports.com's
Pete Pistone points out, five NASCAR drivers declined a White House meeting last month. Although the reception was scheduled for a Wednesday, Greg Biffle, Kurt Busch, Carl Edwards, Kevin Harvick and Tony Stewart said they had scheduling conflicts and declined to attend.
I don't understand the position Hampton is making. An invitation by the president should be an honor, and the one time I had a chance to shake a president's hand -- a man with whom I disagreed on nearly every issue -- I strode up to him (I still can't believe the Secret Service guards didn't see me coming from the backside) and shook his hand.
I was proud to do so. It was an honor, and a moment I'll never forget. And the next time I'm personally invited to the White House, I won't care if it's a Republican, a Democrat, a Libertarian or a member of the Green Party, I'll attend. And then brag about it on Facebook.
For more NFL news, rumors and analysis, follow

@EyeOnNFL

on Twitter and subscribe to our
RSS Feed
.