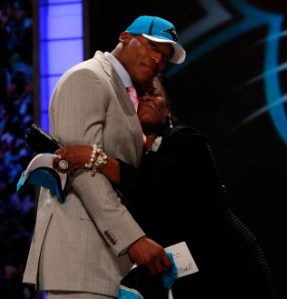 Posted by Josh Katzowitz
NEW YORK – Well, the 2011 NFL draft has come and gone. The ESPN and NFL Network sets, the podium and the big-screen TVs can be placed back into storage – along with the 2011 NFL season for now.
That being said, the draft taught us quite a few things about where the organizations are going and, maybe, why they won't get there. Here are a few observations about what we learned.
1. The Panthers still have no idea about their quarterback situation – and about their direction in general:
It feels like Carolina HAD to take
Cam Newton
with the No. 1 pick, and if the Panthers hadn't, Newton could have fallen all the way until the middle of the first round. So, Carolina has taken a quarterback in the second round (
Jimmy Clausen
) and a quarterback in the first round (Newton) in back-to-back years. Are they any better now than they were three days ago? Probably not. Are they actually in a worse spot than they were three days ago? Quite possibly.

2. The Raiders still are too in love with speed:
Their third-round pick (CB
DeMarcus Van Dyke
) is really fast, but other than that, he has many way too many deficiencies. Their fourth-round pick (CB
Chimdi Chekwa
) is really fast, but he isn't a great cover guy. Their second fourth-round pick (RB
Taiwan Jones
) is really fast, but he's very brittle. It's a replay of almost every other season. Which likely means Oakland still isn't going to be much better than average for the foreseeable future.
3. The Patriots might be the new Bengals:
OK, that's perhaps a bit of a stretch, but maybe could you make the case that Bill Belichick's arrogance of drafting players with off-the-field issues this year compares to Mike Brown's indifference of drafting players with off-the-field issues. Either way, the Patriots took QB
Ryan Mallett
(you know his story well by now) in the third round and TE
Lee Smith
(who left Tennessee for Marshall after he was arrested on a DUI charge). Now, the Patriots will have to make sure they keep those guys in line. The Bengals haven't always done such a great job of that, but I think Belichick can manage just fine.
4. Apparently, everything is cool with quarterbacks in Arizona, Seattle and Buffalo:
Maybe those front offices forgot they'll enter 2011 with
Derek Anderson
/Max Hall/John Skelton and
Matt Hasselbeck
/Charlie Whitehurst, and
Ryan Fitzpatrick
, respectively. I kid, I kid. The
Bills
apparently like Fitzpatrick, and the
Cardinals
almost certainly will go to free agency to find a QB. Maybe, though, those three teams also subscribed to the theory that this year's quarterback class wasn't really all that tremendous and decided to try another route to fill the needs of their team.

5.Maybe teams should look more toward the north part of the South for pro prospects:
Nine (!) North Carolina players were drafted (that's right; I double-checked), six Clemson players were taken (and Da'Quan Bowers was only the third picked!), and, hell, even three Appalachian State players were nabbed. Why, then, were the Tigers and the Tar Heels a combined 14-12?
For more NFL news, rumors and analysis, follow @cbssportsnfl on Twitter and subscribe to our RSS Feed .