Posted by Andy Benoit

This week's Key Matchup looks at two teams that most people know very little about. We don't have a choice, really – the NFL stuck by its word and put the game with the most significant playoff implications in primetime Sunday night. Thus, America is getting introduced to the 2010
Rams
and the 2010
Seahawks
this week. Combined, these teams have as many wins as the 2010
Patriots
.
First thing to know about the Seahawks: they can't run the ball. Their 85.5 yards per game on the ground ranks dead last in the NFL. Some thought the early season trade for
Marshawn Lynch
would spearhead the ground game. But those who thought that clearly hadn't watched Lynch closely the past few years. The former first-round pick is not an explosive breakaway runner, and though he fights through tacklers with tremendous tenacity, he doesn't have enough power to be considered a thumper.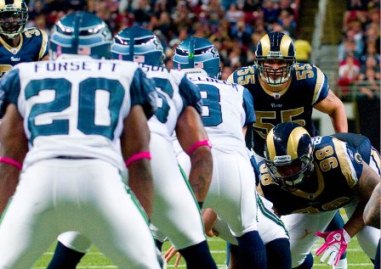 These limitations aren't a major issue for an NFL runner, unless that NFL runner lacks vision and patience – which Lynch does.
Backup
Justin Forsett
is one of the hardest players in the game to tackle, but the Seahawks coaching staff insists he is built to only be a third-down back. Still, with this being a make-or-break game, don't be surprised if quick, slippery Forsett gets a bulk of the carries.
With Seattle unable to run,
Matt Hasselbeck
's status for this game is all the more crucial. Hasselbeck, at this point, can probably be considered a true "questionable" with a left hip strain. If the stakes weren't so high, he'd likely be doubtful. But a gimpy Hasselbeck is superior to a healthy
Charlie Whitehurst
, as a gimpy Hasselbeck at least has the trust of play-caller Jeremy Bates (Bates recently called Hasselbeck the team's "
best player on offense
".)
Prior to the season, one figured that any team in football would be able to throw at will against this St. Louis secondary. Cornerbacks
Ron Bartell
and
Bradley Fletcher
are better in zone than man (this is a polite way of saying they're average). And strong safety
Craig Dahl
doesn't have the greatest range (he'd be a special teamer for most clubs).
But the Rams have mustered a fairly respectable 21st-ranked pass defense, thanks to a surprisingly effective pass-rush, highlighted by a front line that, like the
Titans
of '09, constantly features four solid player but boasts no star. Former No. 2 overall pick
Chris Long
has been near star status, thanks to his career-high 8.5 sacks. But Long's damage comes from his motor more than his athleticism. Guys like that are difficult to play against but not nightmarish to gameplan for. Nevertheless, Long will be a major test for rookie left tackle
Russell Okung
, who is playing with an ankle that is not 100 percent. Veterans
James Hall
and
Fred Robbins
have also been
major surprises for Steve Spagnuolo's unit
.
Finally, no player is more important to the Rams' defense than
James Laurinaitis
. The second-year linebacker has dispelled the notion that he lacks the range and lateral agility to patrol the middle in coverage. A year ago, such criticism was accurate. But Laurinaitis has drastically improved his recognition, which has made him a more explosive player. If the Rams choose to dedicate his services to primarily stopping tight end
John Carlson
on Sunday, the Seahawks will have no choice but to try to win via the big play from their wide receivers. If that's the case, the issue becomes whether Seattle's front five can keep that potent Rams front four at bay.
For more NFL news, rumors and analysis, follow

@cbssportsnfl

on Twitter and subscribe to our
RSS Feed
.