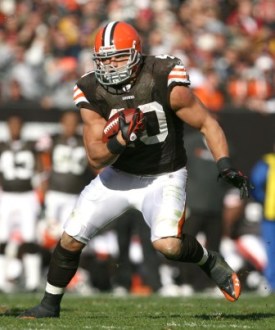 Posted by Josh Katzowitz
For those who think, "Worst trade ever," when they reminisce about the Broncos swap of RB Peyton Hillis to the Browns for QB Brady Quinn (yep, much to Josh McDaniels' chagrin, that actually happened), the
Denver Post
has some good news for you.
Well, "good news" might be stretching it. But Mark Kiszla does lend some perspective on a few of the worst trades in Broncos history. In effect, Kiszla writes the Hillis-Quinn deal won't go down as the absolute worst thing ever.
But he has to go quite a ways back to make his point.
The three trades he remembers:
The trade of CB Willie Brown to the Raiders. Brown eventually made the Pro Football HOF. This occurred in 1967.
In 1968, Denver rid itself of Curley Culp, because they weren't sure what position he should play. Kansas City figured it out, made him a nose guard, and thus, began the 3-4 defense that continues to be so in vogue.
In 1979, the Broncos traded Lyle Alzado to Oakland for Rulon Jones. Both went on make meaningful impacts on their new teams, but Alzado won a Super Bowl title with the Raiders. Jones did not.
For the record, the Post also has a poll on the website that asks which of those four should be considered the worst trade in team history. With 60.1 percent of the vote, Hillis for Quinn is the winner so far.
So, Mazel Tov to McDaniels for that.
For more NFL news, rumors and analysis, follow @cbssportsnfl on Twitter and subscribe to our RSS Feed .