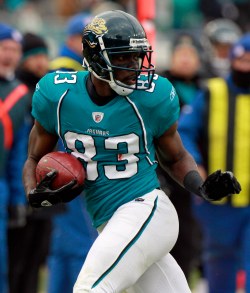 Posted by Josh Katzowitz
If you're a wide receiver whose team is set to face off against the most dominant cornerback in the league, you have a choice: you can choose to talk trash and possibly (probably) motivate that cornerback to have a great game, or you can choose to remain silent and hope that you can slip under the radar enough where said cornerback isn't looking to make it personal.
Most receivers, when they go against
Darrelle Revis
, choose to stay quiet. Even
Chad Ochocinco
, a notorious trash-talker in the week leading up to the game, would clam up when the subject of Revis arose.
Jaguars
receiver
Jason Hill
obviously has other ideas.
"This is a league full of great players," Hill told the
Florida Times Union
. "I think sometimes they get overhyped. I talked to Drew [Coleman], Drew played there. He says it's just the aura of New York. They got a big media. That's not the Jacksonville paper, that's the big
New York Times
paper so they get more pub. That's what it is.
"It's a game that we all play. He been playing the game, Revis, just as long as I've been playing. This is a game full of good players making plays. He just made a lot more plays on TV than we've made being here in Jacksonville. He's a good player. We respect him. Hopefully he respects us because we're going to bring it just like they're going to bring it."
Well, that's interesting, but he's probably right. Revis would be horsecrap if he played anywhere else other than New York*. Anything else to add?
*That was sarcasm. Obviously.
"Him personally, he's a good player, Pro Bowl player, I'm trying to make it to the Pro Bowl, too," Hill said. "This'll be a good game to put some notches on our belts too. It's the
New York Times
vs. the Jacksonville paper.
New York Times
they got a lot more viewers than you got."
Quite honestly, I'm not sure who should be more offended: Revis or the
Florida Times Union
.
One last thing: you might be wondering about Jason Hill. Like, who in the hell he is. Well, he's a fifth-year receiver who played with the
49ers
from 2007-10. He's got 55 career catches and five touchdowns. And, because of a hip injury, he hasn't practiced this week and probably won't play.
Which, when you think about it, is just perfect.
For more NFL news, rumors and analysis, follow

@EyeOnNFL

on Twitter and subscribe to our
RSS Feed
.