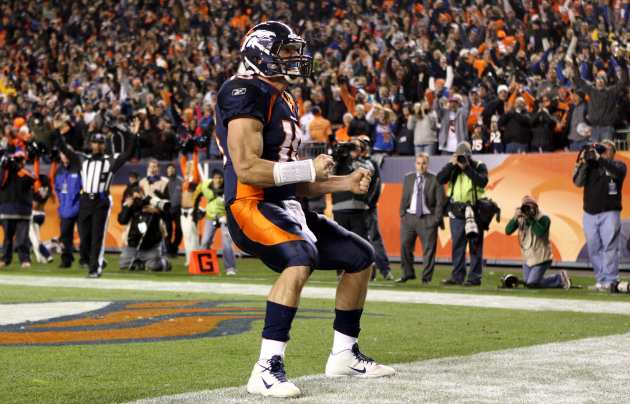 Posted by Josh Katzowitz


With less than 6 minutes to play,
Tim Tebow
had 95 yards to salvation. Down by three points and playing in the comforts of home, Tebow, leader of men, could have been the hero for his team. And it's actually what we've come to expect.
Coming from behind to beat the
Dolphins
. Knocking off the
Carson Palmer
-led
Raiders
. Hurling just eight passes last week in upsetting the
Chiefs
in Kansas City.
Of course, Tebow was going to lead the
Broncos
to the game-winning score, but there was no way he was actually going to do it. Right? Until that's exactly what he did, leading a 12-play drive that ended with Tebow keeping the ball for himself to score the 20-yard touchdown.
It was crazy and heart-pumping and … just screwy. But it was also completely predictable.
"I trust him," Broncos linebacker
Von Miller
said on the NFL Network afterward. "I trust him with everything. No matter how many interceptions he throws or how many touchdowns, I'm going to ride with him until the end."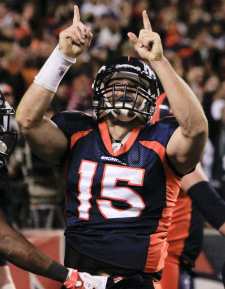 For the most part, Tebow had been his regular self -- barely an NFL quarterback. Not two-completion terrible, but bad nonetheless. Yet, the Broncos were within striking distance -- mostly because the
Jets
offense had been just as bad and because Broncos cornerback Andre Goodman intercepted
Mark Sanchez
and returned it for a touchdown to give Denver some much-needed points.
But there's something about Tebow. I can't put my finger on it. Obviously, none of his opponents can either. Never have we seen a quarterback who's so clearly not an NFL quarterback continue to be successful as an NFL quarterback.
And as bad as this game was to watch, Tebow made it worth it in the final six minutes.
On the first snap of the drive, Tebow hit
Eddie Royal
on the goal line, and somehow the Broncos receiver barely escaped Jets safety
Jim Leonhard
in the end zone and ran for eight yards and out of safety danger. On the second snap, running the option, Tebow kept the ball, running 15 yards for the first down. Later, on third down and with the Broncos in a five-receiver split, Tebow kept it again and ran for the first down.
On the next play, he ran at
Darrelle Revis
, and Revis kind of side-stepped him, allowing Tebow to gain more yards. Tebow, once again, was playing eerily well with the game on the line. Once again, he had improved his game dramatically. Yes, some of his throws on that drive were grossly inaccurate -- he short-hopped at least one receiver -- but he also hit
Dante Rosario
for another first down at the Jets 29 yard line.
And then, redemption.
On third and four from the 20-yard line, he made the stadium explode when he recognized a blitz coming up the middle, scrambled around the left end of the line to avoid it, beat
Eric Smith
to the edge and then broke Smith's tackle to score the game-winning touchdown.
You know, much was made this week about how Broncos coach John Fox and offensive coordinator Mike McCoy had installed a read-option offense that would increase Tebow's potential success. Fox already had all but said that Tebow wouldn't survive in a typical professional offense, so he would bring college ball back to Tebow.
For most of Thursday's game, it still didn't work. Occassionally, the Broncos showed flashes of how the option could be successful. But for the most part, Denver was shooting three-and-out blanks (although punter
Dustin Colquitt
had a pretty good night!). You could look at the game, and say, "See, a high school offense doesn't work in the NFL." And you'd be right.
But for some reason, it works for Tebow. And for some reason, Tebow works for the NFL. He wins games, and at this point, you have to stop using the caveat, "Well, he sucks." Because at some point, that issue becomes moot, and the only thing that matters is this: Tebow is 4-1 as a starter, and the playoffs are still in sight.
"He's the most mind-blowing, polarizing figure I've ever seen in football," NFL analyst Mike Mayock said.
That's as good a description and explanation as any.


For more NFL news, rumors and analysis, follow

@EyeOnNFL

on Twitter and subscribe to our RSS Feed.