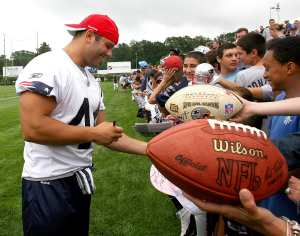 Posted by Josh Katzowitz
When
Patriots
running back Eric Kettani made the Patriots practice squad this year, he became a nice little story. Mostly because he had spent the previous two seasons on the reserve list as an active member of the Navy and because he was continuing his dream to get paid to play football in the NFL.
And while Kettani requested leave from his superiors, his dream of NFL glory has been postponed. That's because the Navy, according to the
Boston Herald
has ordered Kettani back to his ship in Jacksonville, the USS Klakring.
In its letter of denial to Kettani, the Navy wrote: "As our nation is at war, it is important to ensure we maintain our commitment to the nation's defense. As such, a release from active duty would be inconsistent with that effort.
"I appreciate your Patriotism and service to our nation and encourage you to pursue your goal to play professional football after completion of your service in the Navy."
Kettani understands, but he's also sad to leave his teammates, especially when, as
ESPN Boston
points out, the Army allowed
Colts
linebacker Caleb Campbell and the Air Force allowed
Eagles
receiver
Chad Hall
to stay and play football.
"I love my country and I'm happy to serve it, but I'm also happy to be a New England Patriot," said Kettani, who will fly back to Florida at 6 a.m. Friday. "I think some of (the Patriots) were shocked. Coach Belichick said he'd help me out in any way possible."
In the meantime, the Patriots and the NFL should be thankful for men like Kettani, who sacrifice their dreams in order to help protect our country.
For more NFL news, rumors and analysis, follow

@EyeOnNFL

on Twitter and subscribe to our
RSS Feed
.