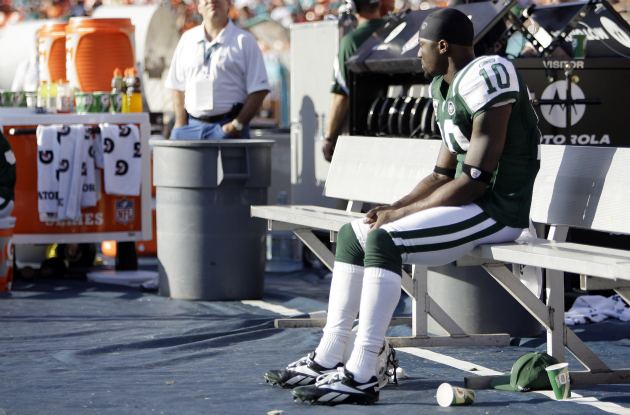 By Josh Katzowitz
Despite all assurances that coach Rex Ryan and general manager Mike Tannenbaum will get it all figured out, the
Jets
flamed out in quite a spectacular way in the second half of the season.
If it wasn't
Santonio Holmes
figuratively urinating on the Captain's C stitched on his jersey, it was
Bart Scott
flipping off a photographer. If it wasn't the constant debate about whether offensive coordinator Brian Schottenheimer should be fired, it was a constant argument about whether
Mark Sanchez
should be disowned as the team's quarterback of the future.
It was, to say the least, an uncomfortable locker room experience, according to quarterback
Greg McElroy
.
"It's definitely not a fun place to be," McElroy told an Alabama radio station on Wednesday, via the
NY Daily News
. "I can assure you."
McElory was placed on Injured Reserve with a thumb injury, but that didn't stop him from experiencing the unpredictability of a locker room in turmoil. Ryan said Monday that the team chemistry was off this season and that he needed to fix it (surely bringing back Holmes for another season will hinder that goal, eh?).
But maybe it's more than just chemistry that needs to be fixed.
"It's the first time I've ever been around extremely selfish individuals," McElory said. "I think that's maybe the nature of the NFL. But there were people within our locker room that didn't care whether we won or [lost]… as long as they got their… they really had a good game individually. And that's the disappointing thing.
"It's going to take a lot to kind of come together next year. I think the fact that we struggled at times this year really led to a really corrupt mindset within the locker room. But I think we're going to regroup and I know that we'll be a better team because of the trials and tribulations this year."
Former Jets quarterback
Erik Ainge
didn't appreciate McElroy's candor apparently.
Tweeted Ainge
: "Someone tell McElroy to keep his mouth shut about the NYJ 'Locker Room' speaking in the media about your teammates, entitled brat!"
For more NFL news, rumors and analysis, follow

@EyeOnNFL

on Twitter, Like Us on Facebook, subscribe to our NFL newsletter, and while you're add it, add our
RSS Feed
.