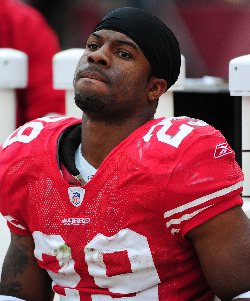 Posted by Will Brinson
Way back last August, Glen Coffee abruptly
retired from the NFL
. He eventually told everyone
he was pursuing a career in a more faith-based industry
, but then managed to
get arrested for possession of a firearm
before coming back
and joining the Premier South Football League
.
Whew. That's a pretty busy non-season for Coffee. And he's back in the news again. He sat down with
the
Sacramento Bee
's Matt Barrows for a recent interview
and stated that the NFL "ruins lives."
"People just keep asking me [why I left the NFL early], and it's like, 'Ok, why are you asking me that?' And their No. 1 reason - their only reason - is money," Coffee said. "It saddens me, man. If your only focus is money, you're going to be sorely disappointed. A lot of people, they chase money. And when they get the money they think, 'Ok, what now? There's got to be more than what I'm feeling now?' "
"As far as the NFL goes, I have a hard time putting it like this because it sounds kind of harsh, but I feel like it ruins a lot of lives more than anything else."
Coffee's reasoning is that the NFL wrecks lives not because of the physical harm done to the players, but because the people in the NFL are chasing the almighty dollar and whatnot.
Frankly, I disagree. There are PLENTY of occupations where people are chasing the buck: Financial analyst, athlete, poker player, politician, or even sportswriter (just ask Jason Whitlock!) -- all of these professions have people more concerned with money than doing what they enjoy.
In fact, it seems to me that, for the most part, football contains a greater group of people doing what they
love
, as opposed to doing something that gives them a shot at making tons of money.
The biggest downside of the NFL isn't greed; it's the physical and/or mental damage done to those who play. Barrows asked Coffee about that and Coffee's only real response was, "it does suck that they have to put their bodies through that."
That seems a little short-sighted for a guy with such a supposedly fresh perspective.
For more NFL news, rumors and analysis, follow

@cbssportsnfl

on Twitter and subscribe to our
RSS Feed
.