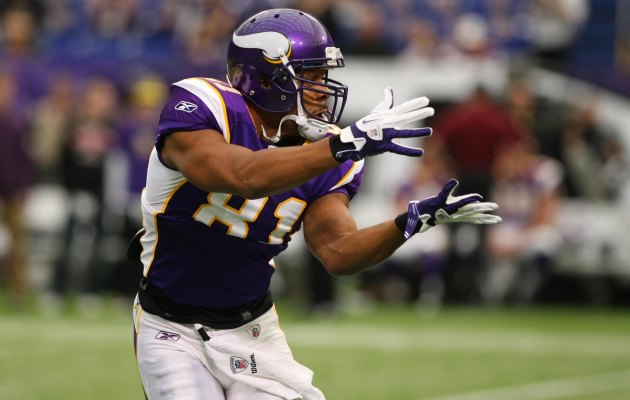 Shiancoe leads what is a fairly unimpressive group of free agent tight ends. (US Presswire)
By Josh KatzowitzLeading up to the start of free agency on March 13, we're compiling the best 2012 NFL free agents by position. These are the tight ends.
Originally for this post, I listed
Jermichael Finley
for the No. 1 spot on this list. Obviously, he was an easy call, because he was so obviously the best tight end on the market. Now, though, he's a signed a two-year deal with the
Packers
worth about
$7.5 million per season
, and therefore, the free agent tight end class of 2012 suddenly has grown awfully weak (let's face it, it wasn't all that great with Finley on top either).
The best tight ends in the game -- guys like New England's
Rob Gronkowski
, New Orleans'
Jimmy Graham
, San Francisco's
Vernon Davis
and Finley -- are safely secure with their respective teams, and those teams who actually are looking for tight ends will have to draw on a list with very few, if any, top-line playmakers. Considering Gronkowski and Graham are helping to redefine the position, that's not great news. Nevertheless, here we go.
Breakdown:
Since catching 56 passes for 566 yards and 11 touchdowns when Brett Favre was throwing to him, Shiancoe's production has decreased the past two seasons, especially in 2011 when he caught 36 passes for 409 yards and three touchdowns. Since he made $4.5 million last season, it doesn't seem likely the
Vikings
will re-sign him. Especially since the Vikings seem high on
Kyle Rudolph
. But unless Favre is planning to return for another season (and let's face it, we can
never
rule out this option), the value of Shiancoe isn't as high as it once was.
Potential Landing Spots:
Giants
,
Browns
Breakdown:
Though Bennett doesn't have impressive receiving numbers, that's not what he's called upon to do. Instead, he'll be one of the more valuable tight ends in free agency because he's top-notch run blocker. Bennett oftentimes is overshadowed by his teammate
Jason Witten
, but his worth to the
Cowboys
is evident every time Bennett steps on the field (it also seems evident, though, that Bennett's time in Dallas is finished). But in order to get paid tons of money, he needs to show he can catch the ball, and that's something missing from his arsenal at this point.
Potential Landing Spots:
Bears
,
Broncos
,
Jets
,
Bengals
Breakdown:
Dreessen is a solid tight end, and he's been an important cog for the
Texans
as quarterback
Matt Schaub
, receiver
Andre Johnson
and running back
Arian Foster
have turned Houston into a consistent top-10 offense in the past three years. He's not a big-time pass catcher, but he's a solid run-blocker (as Foster,
Ben Tate
and
Derrick Ward
likely would attest). The Texans would like to keep their two tight end set, but assuming
Owen Daniels
can stay healthy, Dreessen becomes a little more expendable in Houston.
Potential Landing Spots:
Chiefs
, Jets, Giants, Texans,
Redskins
Breakdown:
He's actually a pretty good candidate to be franchise-tagged by the Redskins (safety
LaRon Landry
(and
his muscles!
) is another candidate), and considering he caught 59 passes for 796 yards in 12 games last year in the best season of his career, Davis is a potential emerging star. Unfortunately for Davis, he was suspended for
the final four games of the season
for a failed drug test, and if he happens to fail another one, he'd be suspended for a year. So, there's a little bit of a gray cloud following him around, and teams that need a tight end might shy away from a potential off-the-field problem like that.
Potential Landing Spots:
Redskins
Breakdown:
It was only four years ago when Shockey was considered an elite tight end, good for about 60 catches, 600 yards and six touchdowns per season from 2004-07. He's been hurt (literally) by injuries, and after the
Saints
released him in 2010, he was solid enough last season in Charlotte (though the team did like the toughness he brought to the squad). Shockey has talked about wanting to play in Miami -- he's also talked apparently about retiring, though it seems like everybody is denying it at that point -- but with
Anthony Fasano
already entrenched as the
Dolphins
tight end, Shockey probably would have to be content to play as the No. 2 tight end. He made $4 million last season, and in order to return to the
Panthers
to play with tight end
Greg Olsen
, he'd probably have to take a paycut.
Potential Landing Spots:
Dolphins, Giants, Panthers
Breakdown:
Carlson missed the entire season with a torn labrum in his shoulder, so there will be plenty of caution surrounding him, even though he's caught at least 50 passes in two of his first three seasons in the league. Making matters worse, Carlson said in January that he's not completely healed, estimating that he was only at 90 percent. "Obviously missing the season is not ideal," he told the
Tacoma News Tribune
. "But that was the situation I was in. I feel really good. I didn't beat my body up over the course of the season and my shoulder is repaired." Carlson is also a solid run-blocker, and he seems like one of those guys who could move into the top-10 of tight ends around the league.
Potential Landing Spots:
Seahawks
,
Rams
Breakdown:
Like most everybody inside the Indianapolis franchise, Tamme suffered without
Peyton Manning
around. Playing in place of the injured
Dallas Clark
, Tamme caught 67 passes for 631 yards and four touchdowns in 2010. Last year, those numbers dropped to 19 for 177 and one. Which obviously is not the kind of season you want to have in a contract year, but it reflects Tamme's position on the team and, probably, in the league. He's a solid backup, the No. 2 tight end in a two-tight end set. He has talent, but it's unclear how much of that was reflected off Manning. He could be a low-risk, somewhat-high reward guy for the right team.
Potential Landing Spots:
Colts
, Dolphins, Broncos, Bengals
8. Honorable Mention
Unrestricted free agents:
Scott Chandler
,
Reggie Kelly
,
Daniel Fells
Restricted free agents:
None
For more NFL news, rumors and analysis, follow

@EyeOnNFL

on Twitter, Like Us on Facebook, subscribe to our NFL newsletter, and while you're add it, add our
RSS Feed
.