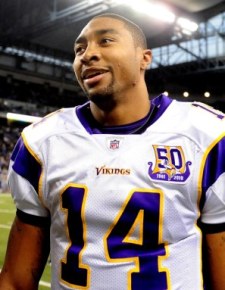 Posted by Josh Katzowitz
We mentioned a few days ago in
Hot Routes
that the
Vikings
didn't offer a tender to QB
Tarvaris Jackson
, because the coaching staff apparently was satisfied with the play of second-year player
Joe Webb
and was willing to let Jackson walk away.
Well, that might not totally be the case.
In a little snippet in this
St. Paul Pioneer Press
notebook, Charley Walters writes that a source told him Minnesota considered trading for
Broncos
QB
Kyle Orton
but then "backed off." The original idea came because, the newspaper explains, Webb is "nowhere close to being an effective starter."
You'll recall that we saw a little bit of Webb last season, and he was up and down. But he showed potential* as well – which, honestly, is more than Jackson has shown in a Minnesota uniform – and though it seemed clear he wasn't immediately ready to jump into Brett Favre's position, you could see that Webb has talent and could eventually grow into an effective starter.
*In fact, I wrote in December that Webb, playing against Philadelphia, showed he belonged in the conversation, because of his poise and multi-dimensional skills under center. In fact, this is what coach Leslie Frazier had to say after Webb led the Vikings to an upset of the Eagles: "It'd be hard for me to say that I knew that Joe would play at such a high level so consistently."
So, yeah, it's hard to figure how the coaching staff views Webb since we're receiving such contrasting messages. Some say the coaches like him, some say they think he's not ready.
Trying to trade for Orton would make sense on some levels for the Vikings. Even if he was nothing more than a one-year stopgap until Webb really is ready, Orton could have contributed to Webb's growth as a quarterback (remember, Webb was expected to be a WR after Minnesota drafted him in the sixth round in 2010, and it was surprising that he beat out
Sage Rosenfels
for the third QB spot at the beginning of last season).
But since that trade for Orton didn't work out, the Vikings staff will have to figure out what to do about Webb. Considering his backups would be
Patrick Ramsey
and/or
Rhett Bomar
, maybe Webb is the guy right now, whether or not he actually IS ready.
For more NFL news, rumors and analysis, follow @cbssportsnfl on Twitter and subscribe to our RSS Feed .