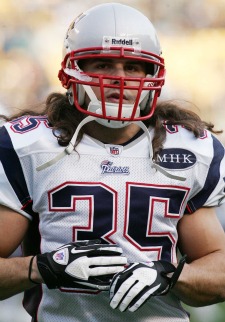 Ventrone won't play Sunday, but he does a decent Steven Tyler impression. (US Presswire)
By Josh Katzowitz
INDIANAPOLIS -- You couldn't keep the smile off
Ross Ventrone
's face last Tuesday at Media Day. He was taking requests to sing Aerosmith songs, and he was discussing why his long brown hair was a better look than teammate Tiquan Underwood's fade. Basically, Ventrone was having a blast, and for a guy who's on the New England practice squad and won't play in Super Bowl XLVI, the safety drew a decent crowd during the hour of media availability.
Ventrone, you see, is happy just to be here.
He was cut eight times this season. And re-signed to the practice squad eight times. And promoted to the active roster five times. Ventrone can never get comfortable, because by the time he settles into a routine, he's involved in another transaction.
"I just kept plugging away and working hard," Ventrone said. "Everything worked out. I'm here, part of the organization. I'm glad things went the way they did."
Ventrone has played in eight games this season and made a grand total of two tackles. But it's not bad for a former University of Pittsburgh walk-on who transferred to Villanova and went unselected in the 2010 NFL draft. He spent most of his rookie year on the practice squad, and this season, he's had a little more impact on his team. You know, when he was actually a member of it and not being released by the
Patriots
.
[Follow all of CBSSports.com's Full Super Bowl Coverage]
"Honestly, I don't even think of it like that," Ventrone said. "I just think that they want me on the team. They want me back. I keep working hard and try not to let that bother me or keep me down at all. I'm a positive person."
And a funny dude. While mugging for the cameras, he referred to himself as "Rusty Benson 35" (
his Twitter handle
) and "Mr. Really." He sang the climax of Aerosmith's "Dream On" in a decent-enough falsetto. He talked about the last time the Patriots were in the Super Bowl, when he watched from the stands as his brother,
Raymond Ventrone
(now a
Browns
defensive back) played for New England and made a big-time special-teams tackle late in the game.
"Being in a similar position as him, it's cool," Ross Ventrone said. "We played at the same high school and same college and now we've played for the Patriots. It's cool to walk in the footsteps of your older brother."
Now, he's just hoping that his Super Bowl experience turns out differently than the final result of Raymond's experience. Not that he'll have much say about it either way since he'll be on the sideline dressed in civilian clothes.
"Aw man, I'm just having fun with this," Ross Ventrone said. "I love this stuff. I love doing all the silly stuff. I'm just trying to take it all in."
For more NFL news, rumors and analysis, follow

@EyeOnNFL

on Twitter, Like Us on Facebook, subscribe to our NFL newsletter, and while you're add it, add our
RSS Feed
.