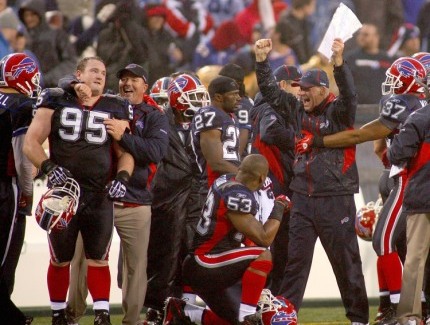 Posted by Josh Katzowitz
This is sublime and sort of ridiculous, but if it doesn't tell the story of the
Bills
FINALLY getting their first win of the season against the
Lions
on Sunday, nothing will.
We told you a little about it when Will and I collaborated on this week's version of
10 stories that deserve your attention
, but we failed to capture just how much it meant to some of the players (since I wrote the Bills section, I will naturally blame someone else).
Let Buffalo LB
Reggie Torbor
explain just what the 14-12 victory against Detroit meant to him.
"We work so hard," Torbor said, via the
Buffalo News.
"If you're not around, you have no idea. It's easy to look at 0-8 and say, 'Those guys are terrible; they don't work hard.' We do. I've been around some good teams. I know these guys work. To come up short constantly over and over, and to finally get a break. Finally, for the defense to play well. Finally, to stop the run. It's kind of overwhelming. ... I have a Super Bowl ring, and this is up there."
That's pretty crazy hyperbole, eh? And I'm sure once Torbor – who won that ring with the
Giants
in Super Bowl XLII – has a couple days to cool off, he probably won't have those exact same emotions. But it's pretty cool that the Bills were so elated with their long-awaited victory that one of their players could compare it to the ultimate goal of any football player (winning the Super Bowl).
I think all of us could relate to that kind of over-the-top emotion. In effect, all of us, for one day at least, were Bills fans (except for the Lions, any other team in the AFC East and, really, just about everybody else in the world who doesn't live in western New York).
For more NFL news, rumors and analysis, follow @cbssportsnfl on Twitter and subscribe to our RSS Feed .