Posted by Josh Katzowitz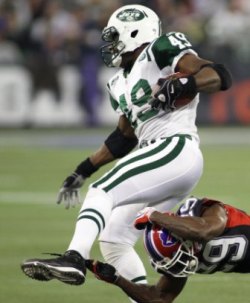 If you didn't know about
Jets
FB
Tony Richardson
before Hard Knocks began its latest run, you have learned about him the past month.
You've learned about his leadership, about how much he's loved in the New York organization, about how much respect he's earned as he was entering his 16th season.
None of that, though, saved the three-time Pro Bowler from getting cut today.
Adam Schefter of
ESPN.com
reported the news, and as the decision made its way around the Internet, many were left confused. Maybe we shouldn't have been surprised, as Manish Mehta of the
NY Daily News
writes:
In a bit of eerie foreshadowing, GM Mike Tannenbaum intimidated in last week's episode of HBO's Hard Knocks that Richardson may be on his way out. In an exchange with Ryan, the GM specifically pointed out Richardson, WR Laveranues Coles and LB Lance Laury as three players whose salaries were above the veterans' minimum.

During that conversation, (Rex) Ryan went to bat for Richardson, one of the unquestioned leaders on the team. The coach told Tannenbaum that Richardson was an integral part of the Jets' ground-and-pound philosophy. Ryan pointed out how close the team was to the Super Bowl playing that smash-mouth style of football.

Now, Richardson is gone.

Another interesting point is that Ryan ripped into his team for a lack of leadership. Meanwhile, the Jets had cut ties with veteran leaders Alan Faneca, Thomas Jones and Leon Washington.

The Jets obviously lose another veteran by whacking Richardson.
The Jets could opt to bring him back after Week 1, meaning his salary wouldn't be guaranteed throughout the season. But that's not a definite either (another team could want him and sign him, Richardson might decide he's through with football, the Jets might not want him back, etc.).
Either way, it's a sad day for the people who got to know Richardson a little bit this past month.
UPDATE (9:16 p.m.):
A quote by Tannenbaum on Richardson: "We appreciate Tony's contributions and leadership over the past two seasons and have nothing but the highest respect for him as a person and as a player."
For more NFL news, rumors and analysis, follow @cbssportsnfl on Twitter and subscribe to our RSS Feed .