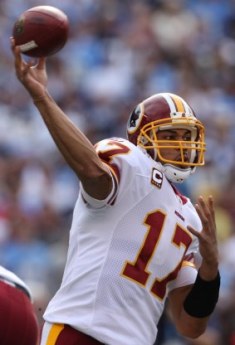 Len Pasquarelli of
ESPN.com
is making the case that the
Raiders
acquisition of former
Redskins
starting QB
Jason Campbell
was one of the best deals of the offseason.
That's more a reflection of how bad Oakland's quarterbacks have performed since Rich Gannon completed 67.2 percent of his passes in 2002. When you've got JaMarcus Russell,
Kerry Collins
,
Bruce Gradkowski
,
Charlie Frye
, Andrew Walter, Josh McCown, Aaron Brooks, Marques Tuiasosopo, Ronald Curry and Rick Mirer starting for you, the addition of Campbell could be a welcome break.
Though Campbell has been maligned in Washington for much of his tenure, where he completed 61.2 percent of his passes for 10,860 yards, 55 touchdowns and 38 interceptions while leading the Redskins to a 20-32 as the starter, the Raiders have welcomed him.
"He's brought stability, and leadership, and professionalism," tight end
Zach Miller
told ESPN.
Yet, Pasquarelli admits that Campbell isn't the perfect choice. From the story:
There are some negatives -- Campbell has averaged only 6.63 yards per attempt in his career and dumps off the ball too regularly, has taken way too many sacks, and still lacks some awareness in the pocket. But those negatives are outweighed by the positive components he provides for an Oakland franchise whose progress has been slowed by the flawed Russell experiment.

For sure, Campbell doesn't represent the laid-back Bay Area stereotype. He is competitive and passionate about the game, and his even-keeled nature probably helps camouflage a fiery persona. But he also has a strong arm, is accurate (a 62.4 percent completion rate in his three full seasons as a starter) and understands the game. And the former Auburn standout, who spent some time in Hattiesburg, Miss., throwing with Brett Favre this spring, won't tarnish the Golden Gate image.
The Raiders simply hope Campbell can help the team improve on their No. 31 offensive ranking from last season. You'd think it'd be hard not to do exactly that.
--Josh Katzowitz
For more NFL news, rumors and analysis, follow @cbssportsnfl on Twitter.