Posted by Andy Benoit

When
Patriots
kicker
Stephen Gostkowski
went on injured reserve with a quad injury last year, many fans probably thought, Oh, quad problem, no big deal, except for a kicker it means IR.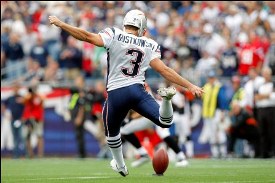 But Gostkowski's injury was very, very serious. He tore the quadriceps muscle right off the bone of his kicking leg. (Think about that for a moment…or take a moment to specifically try NOT to think about that.)
The injury sent Gostkowski to the operating table and, presumably, his career into the ethers of question mark land. Now three months removed from surgery, Gostkowski gave
Karen Guregian of the Boston Herald
and update on his status.
"The rehab has been going well. I've been doing what (the trainers) say, and taking it step by step,'' he said. "When I start kicking again, it's (going to be) a feel kind of thing. But they're confident I should feel no effects here in a little while and I should be ready to go.''
And when, exactly, will he start kicking again?
"There's no real time frame as far as actual kicking a ball. I'll kick a soccer ball around just to feel the load on my leg,'' Gostkowski said. "But to when I start my normal season procedures, I have no idea, because I'm in their hands and doing what they tell me to do. Right now, if I feel like I could go out and kick 100 field goals, it might not be what they feel is best for me. So I just hand it over to the people who know a lot more than me, and do what they say.''
Those people are the Patriots trainers – and they won't be working with the 27-year-old Pro Bowler if (when?) there's a lockout. But it's a safe guess that Gostkowski, who signed a four-year, $14 million extension last year, will have access to other sound medical advisors.
For more NFL news, rumors and analysis, follow

@cbssportsnfl

on Twitter and subscribe to our
RSS Feed
.