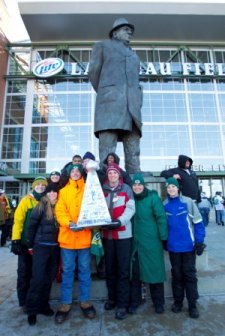 Posted by Josh Katzowitz
For their Super Bowl XLV ring ceremony, scheduled for June 16, the
Packers
have announced
they'll keep it private,
meaning no fans or, most likely, media will be there to witness it. This decision has upset many Green Bay fans, and
NFL.com's
Vic Carucci can understand why.
As Carucci writes, "Packers fans aren't just fans. Many are shareholders and, consequently, feel entitled to be a part of certain 'official' team functions, especially those of the celebratory variety. To them, the ring ceremony isn't a whole lot different than attending the annual shareholders meeting, such as the one held last summer at Lambeau Field.
"But to the Packers, it is very different. To the Packers, it is supposed to be something that only players, coaches and front-office staff members should share together without the presence of anyone who isn't part of the "family" as it exists inside the confines of the team facility. They're citing 'past practices' as a reason to go with the private ceremony."
But the "past practices" excuse doesn't make Packers fans feel any better about the decision.
Wrote one commenter on the
Green Bay Press-Gazette
website: "'Because we did it this way last time'? OH! Well I guess you can't argue with that. Just because I can't figure out why you would not want to fill Lambeau with happy fans, with all the implications for the local economy, is no reason to do it differently."
To those who aren't Packers fans, the private ceremony doesn't feel like a big deal – after all, it's not like the annual shareholders get to be team insiders (it's not like they have a say in who Green Bay drafts every year or who will start the next time QB
Aaron Rodgers
sustains a concussion).
But Carucci makes a good point at the end of his column, writing, "Still, there's a part of me that also wonders, particularly during these frustrating times of lockout limbo, if it would have been possible to at least involve the shareholders so they could feel that added sense of attachment to their favorite team."
For more NFL news, rumors and analysis, follow @cbssportsnfl on Twitter and subscribe to our RSS Feed.