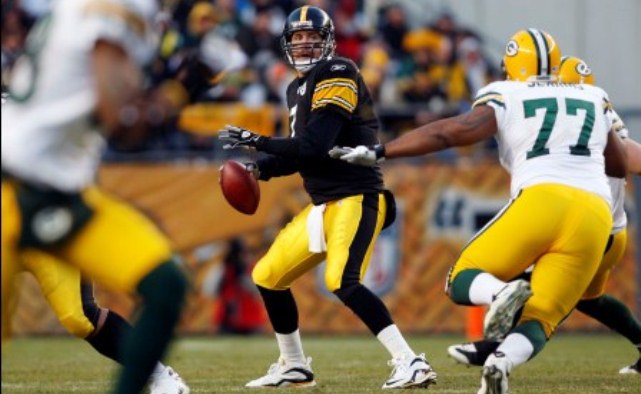 Posted by Andy Benoit

Conversation overheard in the media center this week:

Media Guy A: Maybe it's just me, but why does it feel like we're going to get a surprising offensive shootout on Sunday?

Media Guy B: Because last time these two "great defenses" squared off it was an absolute scoring fest.

That scoring fest was a 37-36 instant classic in which a Ben Roethlisberger to Mike Wallace 19-yard touchdown on the final play resulted in a 37-36 Steelers victory. It was a fitting end considering that a Roethlisberger to Wallace 60-yard strike had been the first play of the game.

All week both teams have downplayed the relevance of last year's shootout. And for good reason. The Packers, with dynamite tight end Jermichael Finley in the lineup, had a slightly different offensive structure than what they'll have this Sunday. And the Steelers were without strong safety Troy Polamalu.

That said, this was barely a year ago, so what we saw is not entirely irrelevant today. Here are some of the key X and O elements from that contest (tip of the cap to Greg Cosell of the NFL Matchup Show for helping with some of the '09 details).

PACKERS OFFENSE VS. STEELERS DEFENSE

Inside blitzes

Last time: The Steelers attacked early with a lot of what's called Fire X blitzes (having the inside linebackers cross each other to rush the passer). They were successful on a few occasions, though Aaron Rodgers amazed with his ability to deliver throws with defenders bearing down on him. Rodgers also built a lot of locker room cred by popping back up when he did get drilled.

This time: Inside blitzing has been a staple of Pittsburgh's attack this season. James Farrior recorded six sacks on the year and rising star Lawrence Timmons was a thousand times better than his three sacks suggest. If (IF) the Steelers blitz, their interior 'backers will be a big part of it.

Corner weakness

Last time: The Steelers did not have No. 2 corner Bryant McFadden last season (he was in Arizona) and their coverage suffered. Ike Taylor, Willie Gay and Joe Burnett rotated throughout this game. Veteran Deshea Townsend was the nickelback. With so many players altering positions, and with no Polamalu helping out, the entire secondary lacked continuity and consistency.

This time: McFadden is not a stud, but he stabilizes the left corner slot. Willie Gay, who was unfit for a starting job last season, is in a more-fitting nickel role. Gay still has occasional issues on the inside, but this cornerback unit as a whole is in the upper half of the NFL.
Spread formations

Last time: The Packers frequently aligned in the shotgun with four and five wide receivers. This was to take advantage of the thin, "Polamalu-less" secondary.

This time: Given the way Rodgers has played, Green Bay's depth at wide receiver and the fact that it's virtually impossible to run on Pittsburgh, expect plenty of spread formations again.
STEELERS OFFENSE VS. PACKERS DEFENSE

Multiple formation throwing

Last time: Pittsburgh relied on a variety of different formations to attack the Packers through the air – most of them of the spread variety. The objective behind this was to make Dom Capers simplify his complex defensive scheme. Mission accomplished. On the 11-play game-winning drive, Green Bay never rushed more than four.

This time: Pittsburgh will likely make a more concerted effort to establish the run, but it would make sense to do so out of spread formations. Spreading the field prevents the Packers from cluttering the box. The fewer bodies the Packers have roving around the box, the fewer options they'll have for confusing Ben Roethlisberger and the offensive line.
Charles Woodson defended Hines Ward

Last time: This was when the packers were in more traditional sets (two and three wide receivers). Woodson, the '09 Defensive Player of the Year, was utilized as a cover corner on what the Packers believed was Pittsburgh's most dangerous wide receiver.

This week: Woodson has evolved into more of a safety in Green Bay's scheme. (When he plays traditional corner coverage, it usually means the Packers are being passive.) But if the Packers do use Woodson as a cover corner, it's likely he will face Ward again. That would be an excellent physical matchup. Plus, Green Bay's other corners, Sam Shields and Tramon Williams, are both better equipped than Woodson to handle the blazing downfield speed of Wallace.
Early pass-rush prowess

Last time: Before they got passive in the second half, Green Bay was effective with their zone blitzes. Clay Matthews, in particular, stood out.

This time: Matthews has only gotten better, but the rest of the Packers pass rush has leveled off just a bit. Brad Jones, the starter last season, joined the host of Packers on IR long ago. Replacement Erik Walden is athletic but battling an ankle injury this week. Still, straight up, Green Bay's pass rush as a whole has an advantage on Pittsburgh's O-line. Right tackle Flozell Adams doesn't begin to have the movement skills to handle Matthews, and with center Maurkice Pouncey likely out, you have to wonder if the rest of the line will effectively communicate on blitz pickups. (Offensive line coach Sean Kugler credits Pouncey's development as the driving force behind the line's improvement against blitzes.)

[More Super Bowl coverage]

For more NFL news, rumors and analysis, follow @cbssportsnfl on Twitter and subscribe to our RSS Feed.