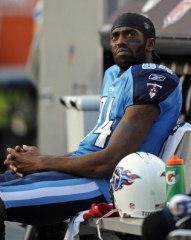 Posted by Will Brinson
There was some speculation recently
that
Randy Moss
might have called into a the 3-Hour Lunch on 104.5 and pretended to be a concerned
Titans
fan named "Woody" who wanted Jeff Fisher fired.
As Andy pointed out
, "Woody" was likely just a prankster with a decent Moss impersonation, and not the rarely gruntled wide receiver. Moss said the same thing on Wednesday.
"First of all that is not me, that is not my MO," Moss said. "I would never do an individual like that. What I do and what I have done speaks for itself. I conduct myself and carry myself as a man, so if there is something I need to say to you I'll say it to your face. I wouldn't go through no radios and try and hide and stuff like that."
See, I totally agree -- not only would Moss not say some of the things that Woody said, but if he wanted Fisher fired, he'd just
punch the local BBQ retailer
come out and say he wasn't happy with his coach.
"The only person who needed to hear it wasn't me was Coach Fisher," Moss said. "I didn't call no radio or no radio outlet. It was important for Coach Fisher to hear it from me that it wasn't me because of all the uproar that people thought it was me."
It probably wasn't Moss. The more and more you listen to the audio, the easier it is to tell the difference between Woody and Moss, particularly in that Woody's pace is too quick for Moss' particular drawl.
But there is an important lesson to learn from this. See how that easy that is
Vince Young
? Just roll up to Fisher, tell him you didn't do anything wrong and it's all good.
For more NFL news, rumors and analysis, follow

@cbssportsnfl

on Twitter and subscribe to our
RSS Feed
.