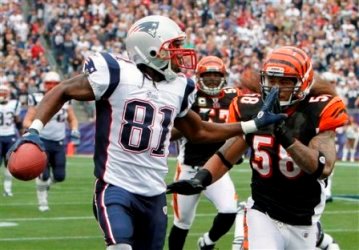 Posted by Josh Katzowitz
Apparently, New England WR
Randy Moss
' 16-minute postgame presser after the
Patriots
win against the
Bengals
wasn't enough. For a player who hasn't spoken to the media since the offseason workouts, Moss certainly doesn't seem to mind getting out his point of view.
This morning on ESPN's SportsCenter, Moss was interviewed by Hannah Storm. Below are some of his comments.

On why he made his contract statements after the Patriots had won a big game:
"I think the timing could have been bad. But it was my first time speaking to the media this year. I wanted to get it off my chest instead of waiting until Week 12 or Week 13 where I really could become a distraction to our team. Maybe it was bad timing. But I cleared my mind to feel good about myself."

If he understand why his teammates could have been annoyed at Moss' timing:
"I do understand that. But when it comes to the business side of football. hopefully my coaches and teammates don't take it as a disrespectful matter and understand where it is coming from. That's the first time and last time you're going to hear from me talking about my contract."

Clarifying his remarks about leaving New England after the season but not retiring from the game:
"I love playing the game. If my skills are going to leave the New England area, which I don't want them to leave – let me be clear, I love what they do here, I love coach (Bill) Belichick, I love the team and playing here on Sunday - but from a business standpoint, I have to look at the best interests for my family. Next year, I don't know where I'll be playing. Hopefully it's in New England."
On Jets CB Darrelle Revis calling Moss a slouch in January (to be fair, Moss hasn't been real complimentary about Revis' skills in the past):
"Words don't hurt me. He's entitled to say what he wants to say. But then again, we're coming to the Meadowlands on Sunday. You've got 60 minutes of this slouch. If what he called me was a slouch, I guess the slouch in me is what you'll see you on Sunday."
For more NFL news, rumors and analysis, follow @cbssportsnfl on Twitter and subscribe to our RSS Feed .