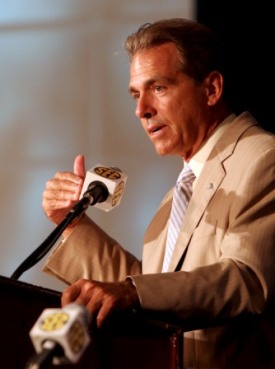 Alabama football coach Nick Saban made headlines Wednesday when he blasted NFL agents, comparing the most unscrupulous among them to pimps.
Though it's laughable coming from a guy like Saban – the coaching king of leaving teams and his players for better-paying jobs while denying it until he actually gets on the flight for his new destination – he makes an interesting point.
Especially in the wake of investigations into whether Crimson Tide DE Marcell Dareus broke NCAA rules by attending a party in Miami on an agent's dime and the fact former OT
Andre Smith
, Julio Jones and Mark Ingram all have been in trouble because of improper dealings with agents.
But is the point he's making actually true? Are agents the real problem? I decided to get the other side of the story, and I called a few agents today to ask them about their reaction to Saban's words.
"He has every right to be angry," said David Lee of PlayersRep Sports Management. "But also education at the compliance level should be addressed. Kids have to make the right decision. Education is the best way to go about it. I think the schools are just as guilty. Nick Saban is angry, but is he really surprised? As many bad agents are out there, there are just as many good ones. He's just angry right now, and that's OK."
Saban admitted that the players aren't guilt-free, but he also mentioned that if the players are caught, they face strict consequences. The agents don't. Saban said that an agent's license should be suspended for a year if caught engaging in practices that could jeopardize a player's eligibility.
Penalties, Lee said, would be hard for some of the smaller agencies to survive.
"We stay away from that," Lee said. "We know better than that. Penalties would like kill a smaller outfit. That's why a smaller outfit wouldn't risk it. I hate to say it, but it's not a surprise that kids get paid off."
Actually, it's funny. The agents to whom I spoke didn't seem offended by Saban's pronouncement. They've heard it all before. But one veteran agent who requested anonymity said Saban's words wouldn't have much impact on the NFL or the NFL Players Association.
"Nick's a smart guy," the agent said. "I don't think he meant (the pimp comment) in that way. People have been saying that about lawyers, insurance agents, sports writers. It's no different. I'm sure he was reacting much more out of anger, because he went through it with Andre Smith and it seems like it happens every year at Alabama. As long as you have agents looking for money and agents and boosters who are looking to give it, his outburst won't stop anything. It's not like these players are robots."
Which brings up another interesting point. Nobody is twisting these players' arms. Sure, some agents might exploit a player's insecurity or his family's financial situation, but ultimately, it's the player who makes the final call.
One agent I spoke to today told me a story about a nationally-known quarterback who was approached by a nationally-known agent about 15 hours before the quarterback was to play one of the biggest games of his life last year. The quarterback didn't sign with that agent.
"The players are not innocent by this in any stretch," the agent told me. "They call and ask you for money. If you tell them that you don't pay, they ask if you know anybody else who does. You say yeah, and they ask if you have their phone number."
There's also this question. Does Saban really believe what he's saying? Will he really be belligerent about keeping agents away from his players? The veteran agent doesn't think so.
"The bottom line for him and his life is recruiting," he said. "Once that affects Alabama and recruiting, I'm sure he'd have a different take. It's not the NFL's problem. It's a problem on the other side. There are a lot of great young players that do everything the right way, but a handful of them screw it up for everybody. Same with the agents and the boosters.
"But as we all know, SEC coaches are at the top of the food chain when it comes to character and ethics."
--Josh Katzowitz
For more NFL news, rumors and analysis, follow @cbssportsnfl on Twitter and subscribe to our RSS Feed .