Posted by Josh Katzowitz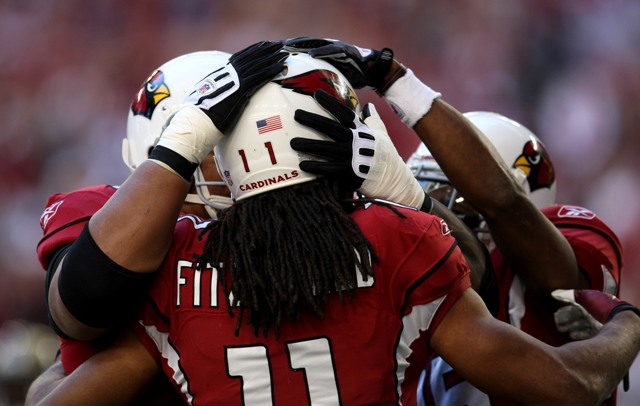 Eye on Football's playing doctor for every NFL team with our Offseason Check-ups .
Let's see, when your choices to fill the starting quarterback spot boil down to
Derek Anderson
vs.
Matt Leinart
, you know your season is pretty much screwed before it even begins. And that's pretty much what happened with the
Cardinals
last year (though, to be fair, quarterback was far from the only problem in Arizona).
I bet you don't remember this, though. After beating the
Saints
in Week 5, Arizona actually was 3-2 before falling through the floor. The only player worth a darn on offense was WR
Larry Fitzgerald
, and it seems like most of the defense underachieved (most notably, LB
Joey Porter
). Suffice to say, it was not a good year for the Cardinals.
Best player is unhappy
Fitzgerald, the only bonafide superstar on this team, was visibly frustrated last year with the offense (and the quarterback play in particular), and even though he somehow caught 90 passes for 1,137 yards last season, the Cardinals front office has to convince him that Arizona has a blueprint for the future. Otherwise, Fitzgerald could walk away after his contract is up after the 2011 season.
1. QUARTERBACK
This is an easy spot to pick on, because if you look at the current roster of QBs, here's who you find: Anderson (consistently terrible throughout his career, and he doesn't like taking questions about laughing on the sideline during losses),
Max Hall
(probably doesn't have the skill set to start in the NFL),
John Skelton
(perhaps a little potential) and
Richard Bartel
(no idea who this is). Missouri's
Blaine Gabbert
has a pretty good shot at landing in Arizona, and if he doesn't, the Cardinals could elect to go after
Marc Bulger
.
2. RUNNING BACK
The Cardinals tried two years ago, selecting RB
Beanie Wells
in the first round, but that hasn't worked out so well. Wells had a tough time staying healthy last season, and
Tim Hightower
had a big problem with fumbles. In fact, Arizona was last in the league in rushing offense – which kinda doesn't help the quarterback. I actually think
LaRod Stephens-Howling
is a pretty good player, but I'm not sure he's a featured back kind of guy.
3. LINEBACKER
Although the defense ranked No. 29 last season, I like the three players across the line (NT
Dan Williams
and DEs
Darnell Dockett
and
Calais Campbell
), and the secondary could be very, very good. But the linebackers are brutal. Texas A&M's
Von Miller
would be a blessing for the Cardinals, who pick fifth, but he might not be around by then. Besides, Gabbert might be the more exciting (though not the safer) pick.
It's hard to believe the Cardinals are only three seasons removed from playing in the Super Bowl, and it's hard to imagine them getting back there anytime soon. If only Arizona had a good quarterback, a dependable running back, a second WR, a decent offensive line, and some players in the LB corps, the Cardinals would have a good chance of getting back to .500.
For more NFL news, rumors and analysis, follow

@cbssportsnfl

on Twitter and subscribe to our
RSS Feed