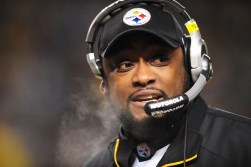 Posted by Josh Katzowitz
Man,
Steelers
coach Mike Tomlin
really
doesn't like to talk about his team's 2008 playoff loss to the
Jaguars
, does he? And if we didn't know that before, the scribes who cover Jacksonville certainly are aware now of his distaste for those kinds of queries.
As recounted by
Florida Times-Union
beat writer Tania Ganguli, Tomlin hung up on the Jaguars beat hacks Wednesday during a teleconference when they asked one too many questions about Pittsburgh's 31-29 defeat to the Jaguars after the 2007 regular season.
According to Ganguli, AP reporter Mike Long asked Tomlin if he had any memories from that game.
"Not really," Tomlin said. "I remember David Garrard, of course, on the draw on fourth down. That's one of those plays you'll never forget. It was a big play."
Tomlin might be bitter about that play because it was determined afterward that officials had missed a holding call. Tomlin was asked if he had sent a complaint to the league about that play, and after he said no, he was asked why.
"Guys, come on man," Tomlin said. "I'm not going to cry over four-year-old spilled milk. Anybody got any legitimate questions? Goll-lly."
The reason he asked the question, Long explained to Tomlin, was because, from a Jacksonville perspective, that was a huge game and a huge play, and it led to big-time contract extensions for coach Jack Del Rio and for Garrard.
"Guys, that was four years ago," Tomlin said. "I understand that might have been a big game in Jacksonville but that's old news. Many of those guys are no longer here and definitely many of the guys that were in Jacksonville are no longer there. Anybody got any questions relative to this week?"
After another reporter began a question, presumably not related to the previous Jaguars-Steelers clash, Tomlin interrupted, said goodbye, wished everybody a nice day and hung up the phone.
So, fair warning. If you ask Tomlin about the Jaguars, you'd better keep it current. Otherwise, he's going to end the conversation as quickly as possible.
For more NFL news, rumors and analysis, follow

@EyeOnNFL

on Twitter and subscribe to our
RSS Feed
.