Posted by Andy Benoit
Want more Week 14 action? Check our NFL podcast preview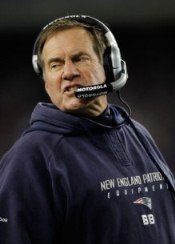 Bill Belichick has faced Mike Martz before. You may recall Super Bowl XXXVI. Belichick's revolutionary defensive gameplan that afternoon centered around beating up on Martz's finesse-based Ram offense.
Now the offensive coordinator of the
Bears
, Martz is operating out of the same playbook, though he's reading from different chapters. He has seemingly let go of his rigid insistence on throwing the ball every down. Entering Week 14, the Bears rank a respectable 16th in rushing attempts per game (26.7).
It's no coincidence that the Bears' five best rushing performances this season – with the exception of the 218-yard outburst against Carolina – have all come during their current five-game winning streak. But none of those five wins have come directly from running the ball. In fact, the Bears have not had over 135 yards rushing in any of those five games. Heading into Sunday, Chicago ranks 22nd in run offense.
So why has the run been so important? Because it's what gives the Bears balance. We hear all the time that teams need to have balance in order to win. That's not true. Teams with a superstar quarterback and electrifying receivers can win without balance (just look at the '09
Colts
, '08
Cardinals
or '07
Patriots
). But teams with modest talent DO need balance.
The Bears have modest talent at best.
Jay Cutler
has a superstar arm, but he's somewhat limited in pre-snap reads, and he can be erratic in post-snap decision-making. Chicago's receivers are fast but raw. And, above all else, the Bears offensive line is a makeshift group.
Many have cited the line's personnel changes (
Frank Omiyale
to left tackle; J'Marcus Webb to right tackle;
Chris Williams
to guard) as the reason for the offense's turnaround. But that's like citing the toppings as the reason frozen pizzatastes better than pizza that's been burned black.
The Bears offensive line has improved because on 26.7 plays per game this season those five blockers get to fire out of their stance and play downhill. Early in the year, Chicago linemen were asked to drop into pass protection every play and shield defenders long enough for Cutler to complete a seven-step drop. Not only were the Bears blockers not good enough to do that, but the frequent pass protection assignments robbed them of their edge. Pass protection forced blockers to be reactionary; run-blocking enables them to be proactive. By getting to be proactive on more plays, the Bears offensive linemen naturally play with more all-around confidence. When forced to play reactionary, we've seen this group struggle to communicate and recognize assignments.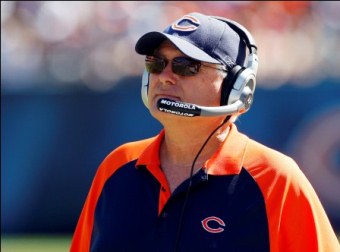 Though Chicago isn't a great running team, don't be surprised if Belichick's gameplan this week centers around forcing the Bears to throw. Yes, New England's young defense ranks 31st against the pass and is tied for 24th in sacks. But it also ranks second in interceptions (18 on the season). And Belichick may believe that he can get clean pass-rushers in the backfield simply by confusing Chicago's line.
Cutler isn't turning the ball over like he was last year (he has just 10 interceptions on the season). But do you really think, deep down, he's lost his gunslinger's mentality? What about Martz?
When the stakes are high and the pressure is on, human beings have a natural tendency to fall back on what they know best. With this being a prove-it game flexed for national television purposes, Cutler and Martz could feel the pressure. If they do, their egos will tell them to put on a show.
Belichick would welcome that. Whatever makes the Bears one-dimensional and easier for his young defenders to figure out. Belichick has playmakers in the secondary who can exploit aerial aggression (namely rookie corner
Devin McCourty
, who is sensational outside the numbers, and safety
Brandon Meriweather
). Don't be shocked if Belichick surprises everyone by betting on his young defensive backs and daring the Bears to throw.
For more NFL news, rumors and analysis, follow

@cbssportsnfl

on Twitter and subscribe to our
RSS Feed
.