Posted by Andy Benoit

Remember once upon a time when the Bucs supposedly had a loaded backfield? It wasn't that long ago.

In spring, there was excitement about the rebirth of Cadillac Williams. For the first few years of his career, the 2005 first-round pick would tear his patella tendons about as regularly as you might change the oil in your car. But in '09, Williams had stayed healthy for all 16 games. He'd showed flashes of his old burst, gaining 853 yards (3.9 yards per carry). Hopes were officially raised for 2010.

The Bucs also had Derrick Ward on the roster. The ex-Giant had been a disappointment as a free agent pickup in '09, but it figured that would only put a chip on his shoulder in '10.

And if Ward wasn't enough, coaches were encouraged about Clifton Smith's potential as a third-down back.

Flash forward to present day. Smith underachieved during the summer and is now a non-impact player for the Dolphins. If Ward had a chip on his shoulder, we'll assume he ate it. After getting paid, he suddenly forgot how to keep his weight in check. Ward was released in training camp and is now a backup for the Texans.

Then there is Cadillac. In his three games as the starter this season look like this: 75 yards on 22 carries against the Browns, 53 yards on 27 carries against the Panthers and 13 yards on six carries against the Steelers. Cadillac has been as sluggish as his 2.5 yards per carry suggest. Which is why, according to Pewter Report, the Bucs are scaling back his role.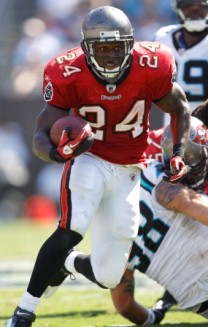 Cadillac talked about his soft demotion after practice Tuesday "I think in ways it is good to get the young guys up to par," he said. "For down the stretch to get them in the game more. You know me, I'm here but basically just whatever."

He claims to feel great physically. "I think me personally I can do better," Cadillac said. "I also think overall as a team we also can do better. From the guys blocking to me running and making better reads. Until we start playing like one unit we are going to continue to struggle in that area."
The Bucs are expected to give more of the load to a pair of undrafted youngsters: Kareem Huggins ('09) and LeGarrette Blount ('10). Huggins, at 5'9", 198, is more of a slasher. Blount, 6'0", 241, is a thumper (insert sucker punch joke here).

One would think the team would at least consider using Earnest Graham in more of a featured role. Graham rushed for 898 yards in 2007. But he is 30, and the Bucs have made no bones about getting younger and building for the future.

Cadillac understands the team's direction. "I mean you know this business," he said. "Of course that is a possibility that they are looking beyond this year, which is cool. I'm just going to continue to prepare myself and go out there on Sunday and continue to put stuff on film."

Meanwhile, the Bucs will now rely more on two callow, untested running backs to take the pressure off second-year quarterback Josh Freeman. Fortunately, Tampa at least has a formidable run-blocking front five.

For more NFL news, rumors and analysis, follow @cbssportsnfl on Twitter and subscribe to our RSS Feed .