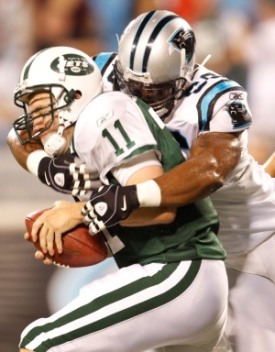 Posted by Josh Katzowitz
The
Jets
released QB Kevin O'Connell today, and with the pronouncement by coach Rex Ryan that third-stringer
Kellen Clemens
has "a pretty strong chance" to make the roster, I'll go out on a limb and say Clemens probably will make the team (I'm a risk-taker, what can I say?).
But if you think that made Clemens' day, you'd be wrong. Read his quotes in the
NY Post
and that might give you an idea of how Clemens feels he's been treated so far this year.
For instance, when the team signed veteran
Mark Brunell
– who, if Hard Knocks is any indication,
does
seem to be rather awesome (off the field, at least) – it took Clemens close to a week to wrap his head around the notion.
From the Post:
Clemens, a holdover from the Eric Mangini regime, also admitted he is still stinging from what he perceives as unfair treatment by Ryan this month when the coach named Mark Brunell the No. 2 quarterback just days into training camp.

Asked by The Post yesterday if he had gotten a fair shot from Ryan, Clemens said sarcastically: "To be the No. 3? Yes. There wasn't much competition for the No. 2 spot."

Widespread belief around the NFL has the Jets, barring the unlikely event of a trade, cutting Clemens at Saturday's roster deadline because Ryan has soured on him and, more importantly, because of the quarterback's 2010 salary.

Clemens is scheduled to earn almost $1.2 million this season. That's more than All-Pro holdout Darrelle Revis' scheduled $1 million salary, and teams rarely, if ever, keep a No. 3 quarterback at a rate that high.
Now, without O'Connell in the picture, that probably means Clemens will stick around the (New) Meadowlands. Unless, of course, the Jets go with only two QBs.
For the record, Clemens is 11 of 16 for 116 yards with no TDs or INTs during the preseason. Brunell is 5 of 13 for 23 yards and no TDs or INTs.

UPDATE (12:46 p.m.):
Just saw a series of Tweets from the
Newark Star-Ledger's
Jenny Vrentas
regarding Clemens. She writes Clemens took a paycut before the season, and that although he drew interest from four other teams in the offseason, "you dance with the girl you came with." Also, Clemens met with Ryan and GM Mike Tannenbaum Monday night to make sure that, if Clemens makes the team, it would be a positive experience.
For more NFL news, rumors and analysis, follow @cbssportsnfl on Twitter and subscribe to our RSS Feed .