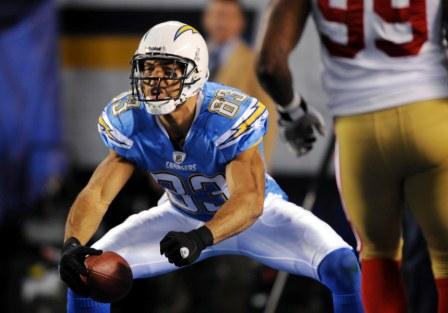 Posted by Josh Katzowitz
In his first game of the 2010 season,
Chargers
WR
Vincent Jackson
didn't last one quarter before excusing himself from the contest with a calf injury. Then, he missed the next week.
For a guy who'd been shouting in the preseason about a new contract before refusing to sign his tender, holding out, getting his bluff called by San Diego GM A.J. Smith and serving two suspensions, this was not an especially impressive showing.
When he finally returned in last week's 31-0 San Diego victory against the
Chiefs
, he tallied two catches for 29 yards. This, you might have asked, was the player who crowed about wanting one of the top WR salaries in the league? This, even though he originally was scheduled to make $3.2 million this season (that salary was later slashed to $600,000, so yeah, his refusal to sign his tender wasn't a great financial decision).
If you had doubted Jackson's abilities, look no further than the Chargers 34-7 victory against the
49ers
tonight, because Jackson was nothing short of incredible. He finished with five catches for 119 yards and three touchdowns, and he was simply outstanding. His first score was his most impressive, when he out-leapt San Francisco CB
Nate Clements
for a 58-yard touchdown to give San Diego a 7-0 lead.
From there, the Chargers – and Jackson – never looked back.
San Diego is currently in the middle of its yearly December restoration project when it has to overcome a slow start to the season only to make a huge run to win the AFC West and make the playoffs.
With tonight's win, the Chargers are a half-game back of the Chiefs, who face the
Rams
this weekend and could be without quarterback
Matt Cassel
again. Unquestionably, San Diego – which has won six of its past seven games – has the momentum going into its final two games of the season (against the
Bengals
and the
Broncos
, two should-be wins), as opposed to the Chiefs, who gone 3-3 in their past six games.
The Chargers still have to hope they can actually make the playoffs – if the Chiefs win out, it'd still be tough for the Chargers to get a Wild Card, even with a 10-6 record.
But …
But if San Diego
can
make the postseason, the Chargers will be a tough squad to play. Assuming TE
Antonio Gates
and WR
Malcom Floyd
are healthy enough to play, assuming Jackson continues to perform like he did tonight, assuming the Chargers defense continues to play well and assuming QB
Philip Rivers
continues to be an MVP candidate, this team will be a tough out in the postseason.
"It's been a long time coming," Jackson told the NFL Network after the game. "This team is moving in the right direction. I'm glad to be a part of it."
For more NFL news, rumors and analysis, follow @cbssportsnfl on Twitter and subscribe to our RSS Feed .