Posted by Andy Benoit

It's not often that a three-time Pro Bowler under the age of 30 a.) gets cut and b.) shows such gratitude to his former team and city. But defensive tackle Tommie Harris says he doesn't burn any bridges. In fact, reading the heartfelt full page Chicago Tribune thank you ad that Harris did for fans Thursday, you could say the man actually builds bridges.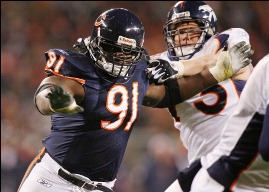 Harris wrote:

Words cannot express my heartfelt appreciation for your support throughout my seven seasons with the Chicago Bears.
From the moment I first stepped off the plane back in 2004, I have felt the warmth of your welcome. I have been embraced by this great city and have come to know it as my home. I consider myself as much as a Chicagoan as a Texan.
You have cheered with me in our victories, and I don't think I could ever get tired of hearing your roar as I am introduced before a game!

You have expressed your concern over my injuries. Thousands of you have sent letters, cards and e-mails over the years wishing me well.
I will deeply miss my teammates whose camaraderie on and off the field is unmatched. I could not imagine going into battle with a better group of guys.
I have met so many of you in person, and you are always so kind and friendly. I will miss each and every one of you.
I could have never asked for better teammates, better fans or a better city.
So, thank you, Chicago. It's been a great run!

Harris' tenure in Chicago will be remembered with both fondness and glumness. His initial quickness made him the most brilliant one-gap defensive tackle in football early in his career. But after signing a long-term mega deal in 2008, injuries and whispers about focus and work ethic dogged Harris. Overall, he lived up to his first-round billing, but Bears fans (and perhaps Harris, as well) probably won't be able to help but wonder about what could have been.

For more NFL news, rumors and analysis, follow @cbssportsnfl on Twitter and subscribe to our RSS Feed.