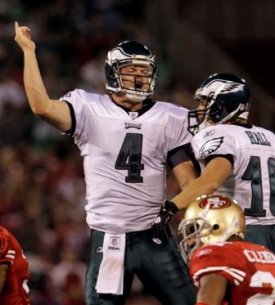 Posted by Josh Katzowitz
For as poor as
Kevin Kolb
has looked this year – let's see, there was the awful first half in the season-opener before he sustained a concussion and there was last week when he was decent enough in a losing effort vs. the
Redskins
– he emerged Sunday night as a changed quarterback.
I don't know, maybe it's because the pressure is off –
Michael Vick
, trying to return to the health, isn't breathing down his neck yet (though that could change for next week's game vs. the
Falcons
). Maybe it's because he knows the starting job likely won't be his when Vick does suit up again, so he doesn't have to play so cautiously. Maybe it's because the
49ers
fans focused their negative action on the quarterback that plays for their team.
Whatever it was, Kolb looked impeccable in the
Eagles
27-24 win against the 49ers. On the night, Kolb went 21 for 31 for 253 yards and a touchdown. He made one major mistake on a sack-fumble, but other than that, he was very good.
In fact, he looked similar to the QB we saw last season when he threw for 300-plus yards and two touchdowns in back-to-back games and gave Philadelphia coach Andy Reid all the evidence he needed to get rid of
Donovan McNabb
.
And when
Alex Smith
led the 49ers to within a touchdown of the lead midway through the fourth quarter, Kolb kept his composure. He threw a 22-yard rocket to
Jeremy Maclin
across the middle of the field on the drive's first play, and that was nearly enough to get the Eagles into field goal range for
David Akers
that gave Philadelphia a 10-point lead with 4:35 to go.
Yeah, the Eagles took only 19 seconds off the clock on their final series with less than 2 minutes to play and holding a three-point lead, but that was more of a reflection of
LeSean McCoy
's inexplicable decision to fall to the turf two yards short of the first down marker. Kolb was still close to being perfect.
While the QB job is Vick's when he returns, we can legitimately say that Kolb is good enough to be the starter.
"My biggest thing – and I've been saying it since the beginning of the week – is that I want to help us win," Kolb said on NBC after the game. "I don't worry about (not being the starter). I don't care about it. I'm just going out and playing my game."
Tonight, his game was pretty damn good.
For more NFL news, rumors and analysis, follow @cbssportsnfl on Twitter and subscribe to our RSS Feed .