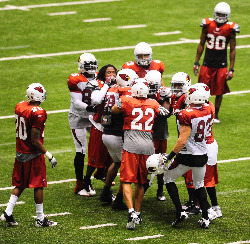 Apparently, some monster brawl(s) broke out at the Arizona
Cardinals
' training camp in Flagstaff on Monday night, although you'd think from hearing the quotes about the fracas that it wasn't that big a deal.
Here's the setup (
via Ken Somers of the Arizona Republic
):
Darnell Dockett
and
Alan Faneca
were doing the whole "football thing," and Dockett knocked Faneca over. As they were lying on the ground, Dockett apparently "took a swipe" at
Matt Leinart
's feet. Leinart got cheesed and spiked the ball down on the field (note: this might have secretly been the most humorous part of the story).
So, naturally,
Levi Brown
decided he needed to punch Dockett.
Of course, Darnell Dockett isn't the type of person who takes that in stride, so he threw a punch back. And, just like that, the entire team was "dancing across the field" (read: fighting like crazy).
I haven't come across any video just quite yet ... and
somehow
, the picture above is actually a DIFFERENT fight -- one that involved Rashard Johnson and
Stephen Spach
and was a result of a facemask (and, probably, heightened tension on the field).
Additionally, Somers reports that lineman
Tom Pestock
"threw a couple of uppercuts" at Mark Washington.
So, yeah, if you happened to be hanging out in Flagstaff, it was probably a pretty fun day. Although apparently, it was all for funsies (or something) and no one's "actually" angry.
"There's a lot of intensity out here," Dockett said. "That's what teams do. You don't take nothing from nobody. I love that at the end we came together as one, as a family."
Mmmhmm. Bet
Steve Smith
wishes he'd thought of that line two years ago.
Update (11:52):
Looks like we WILL have video soon,
as the Cardinals' own site has promised as much
, in addition to offering up a still of one of the actual blows being exchanged between Brown and Dockett.
-- Will Brinson
For more NFL news, rumors and analysis, follow

@cbssportsnfl

on Twitter

and subscribe to our

RSS Feed

.