Posted by Andy Benoit

One of the more interesting aspects of Week 1 is learning all the winners of the training camp position battles. Here's a rundown and analysis on some of the players who have officially earned a new starting job in the AFC.

Derrick Johnson & Javon Belcher, ILB's, Chiefs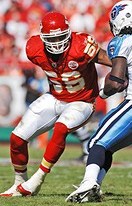 Both players handled nickel linebacking duties last season. Now, they're replacing Demorrio Williams and Corey Mays in the starting lineup. Johnson, a former first-round pick who runs like a deer, should have replaced Williams last season. Coaches were looking for more physicality, though (Johnson is far better in space than he is in traffic). Belcher replacing Mays is a surprise. Mays' critics love to gripe about the fifth-year pro's lack of open-field speed. But for the type of speed that matters at inside linebacker – such as lateral speed and closing speed at the point of contact – Mays is excellent. Still, coaches are giving the more athletic Belcher a crack. Belcher was an undrafted rookie last season.

Justin Smiley, LG, Jaguars

In a long-anticipated move, Vince Manuwai moves to the second string in order to make room for newcomer Justin Smiley. Manuwai hasn't been the same since blowing out his knee in 2008. Smiley, when he's not battling shoulder problems, is one of the premiere run-blockers in the game. He is tremendous on inside pulls.
Anthony Smith & Sean Considine, S, Jaguars

This is more of an admonishment of Gerald Alexander and Reggie Nelson than testimonial for Smith and Considine. The Jaguars are making it clear that they expect sharp awareness and at least somewhat physical tackling from the safety position. Hopefully, they're not expecting speed, because Considine offers little of that. He'll play primarily in the box. Smith was a disappointment as a third-round pick in Pittsburgh, but physically-speaking, he was Jacksonville's most impressive safety in training camp.
Joe Berger, C, Dolphins

Incumbent Jake Grove is a better player than Berger – much better, in fact. But frequent injuries make the seventh-year veteran unreliable (why do you think the Raiders dealt him to Miami in the first place?). Berger gives the Dolphins more stability on a week-to-week basis. That's a big deal when you're integrating two new guards (John Jerry and Richie Incognito).
C.J. Spiller, RB, Bills

With Fred Jackson missing the preseason with a hand injury and Marshawn Lynch sitting out until the final game with an ankle injury, Spiller was able to snag more reps than initially planned. The explosive first-round pick was destined for the starting job anyway. Looks like he'll have it right away.
Wade Smith, LG, Texans

When they signed him, coaches initially thought the journeyman utility veteran would be an excellent fit in the team's zone-blocking system. Smith did nothing to change their minds. Helping Smith's cause was the fact that last year's starter, Kasey Studdard, struggles to consistently sustain blocks in pass protection.

Left guard is solved, but the Texans still haven't figured out their starting right guard. Rumor has it that Mike Brisiel and Antoine Caldwell could wind up taking turns in Week 1.

For more NFL news, rumors and analysis, follow @cbssportsnfl on Twitter and subscribe to our RSS Feed .