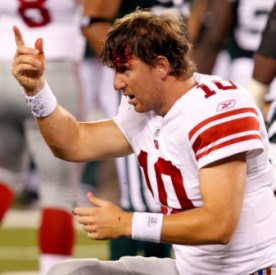 Posted by Josh Katzowitz
I know it's the middle of training camp. I know it was a preseason exhibition that means absolutely nothing. But man, the
Jets
looked good. Man, the Jets looked like they could contend for a Super Bowl.
Ugh, I hate myself for writing something like that based on one measly preseason game in which the team I'm touting lost by 15 points. But the first-team offense, for the most part, looked very good – except when the Jets got to the red zone – and the defense, like last year, looked pretty nasty. They looked like a team that still could be playing in February.
If ….
If, that is, they get back Darrelle Revis. Because without Revis, New York might not be the Super Bowl team coach Rex Ryan thinks they can be. A virtual unknown WR named
Victor Cruz
made that pretty clear tonight during the
Giants
31-16 win against the Jets.
Earlier today, we had
three questions for each team
entering tonight's game. Let's look at the answers (which are in bold.)
Jets
1) How will Kyle Wilson look?
Without Darrelle Revis around, Wilson is sure to get looks with the first team. How he performs could affect the team's negotiations with Revis. If Wilson looks completely competent, the Jets can afford (perhaps) to take their time with Revis. If he looks overmatched, maybe they'll give Revis' agent a quick phone call post-game.
It wasn't Wilson that looked overmatched. It was the rest of the secondary, minus Antonio Cromartie. We'll get to him later, but Victor Cruz beat three different Jets CBs for touchdowns (Dwight Lowery, Drew Coleman and Marquice Cole). More than perhaps anybody else associated with these teams, Revis might have gained the most tonight. Except maybe for Cruz.
2) Can Mark Sanchez handle a more high-profile passing attack?
Last year, Sanchez could allow his running game and his team's defense to help him win games. This season, the Jets likely will allow him to test his arm a little more. We might get a few chances to see that tonight.
Aside from the tipped INT on his first pass of the game – a throw into double coverage Sanchez shouldn't have made – he was very impressive, completing 13 of 17 passes for 119 yards and a TD.

3) Does LaDainian Tomlinson still have it?
This obviously won't be answered tonight. But if Hard Knocks is any indication – and that's debatable – Tomlinson still has speed and the ability to make the big play (even while catching it out of the backfield). I imagine he'll get some playing time tonight to see how he performs in a game-like atmosphere.
Tomlinson played the entire first half and showed some bursts of speed that were exactly what the Jets wanted to see. Shonn Greene is still the starter – no question about that after blowing away the Giants defense – but Tomlinson looks like he has some fuel left in the tank. The 16-yard TD that was called back because of a hold was pretty exciting for Jets fans to behold.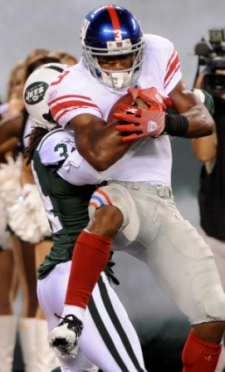 Giants
1
) Will the Giants defense be better than last year?
It'd be tough to have been worse. As Clark Judge so astutely points out in his Giants camp report , the squad allowed 427 points last season, the most since 1966. To say that's embarrassing is an understatement. Let's see how new defensive coordinator Perry Fewell's men perform.
Not all that impressively actually. Sanchez pretty much accomplished whatever he wanted, and Greene gashed them for mid-sized gains. Plus, the personnel confusion on Sanchez's TD pass to Brad Smith was embarrassing.
2) How will the Giants' new additions on defense help?
New York get safety
Kenny Phillips
back and the Giants have added LB
Keith Bulluck
, first-round pick DE
Jason Pierre-Paul
and safeties
Antrel Rolle
and
Deon Grant
. How will they all mesh? The Giants have added some veterans, but does that mean all of these players still have the ability to dominate on defense?
Phillips and Bulluck didn't play. Rolle and Grant were pretty good early. Pierre-Paul was, at times, dominated by Jets OT Damien Woody, but he managed to elude Woody with his speed late in the second quarter and sack Sanchez. Less than a minute later, though, Pierre-Paul was whistled for offsides.
3
) How much will the Giants miss Domenik Hixon on returns?
Last year, he averaged 15.1 yards on punt returns and performed relatively well on kickoffs. But he tore his ACL early in training camp, and it sounds like RB
Danny Ware
will handle kickoffs and CB
Aaron Ross
will take punts. Yet, Ware only has returned two kicks in his career, and Ross hasn't done it at all (though he seemed pretty decent at it his final two years at Texas) The loss of Hixon could be a pretty big deal.
Let's talk about special teams as a whole here. P Matt Dodge was fairly horrendous, line-driving his punts and having another one blocked. Three of Andre Brown's kick returns didn't extend past the 22-yard line. Ross did nothing of note while fielding two punts.
-A few other observations:
Eli Manning
said the mix-up between him and
Brandon Jacobs
was the quarterback's fault. In case you missed it, the two collided on what was supposed to be a handoff, Jets LB
Calvin Pace
then blind-sided Manning and popped off his helmet and Manning's forehead smacked into
Jim Leonhard
's helmet, opening a three-inch gash on his forehead that needed 12 stitches to close. Said Manning in quotes distributed by the team: "I feel fine. I feel normal. Sometimes you make a mistake and get hit in the head."
-Cruz was a joy to watch. He made a one-handed catch on a 64-yard TD pass, and he was the most remarkable subplot of the evening. He's battling with
Sinorice Moss
for the sixth WR spot. Moss didn't play because of a groin injury. Moss, in the next three games, should make sure he finds a way to get on the field.
-The Giants first-team offense recorded five yards in the first quarter. Don't forget that.
-Kellen Clemens replaced Sanchez to start the second half. Wait a minute, I thought
Mark Brunell
was the backup QB.
For more NFL news, rumors and analysis, follow @cbssportsnfl on Twitter and subscribe to our RSS Feed .