Posted by Andy Benoit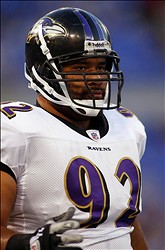 The most domineering 3-4 defensive end in football is in the final year of his contract. The Baltimore Sun points out that Haloti Ngata's market value may have increased earlier this week, thanks to a certain rookie defensive tackle from Nebraska:

The deal signed by Ndamukong Suh on Tuesday not only locked up the draft's top defensive player, but it could serve as the measuring stick for the Ravens defensive tackle Haloti Ngata.

In the last year of his contract with the Ravens, Ngata would be one of the most sought-after players in free agency. According to a league source, the Ravens haven't approached Ngata about an extension. But Suh's deal would appear to be a reasonable starting point.

The second player overall in the 2010 draft, Suh signed a five-year, $68 million contract that includes $40 million guaranteed. Ngata, who is considered one of the top defensive players in the NFL, could command a five-year deal in the $70 million to $75 million range with over $40 guaranteed.

There's next to zero chance that Ravens GM Ozzie Newsome will let Ngata get away. If a long-term deal can't be reached, expect Newsome to pull out the franchise tag that he used twice on linebacker/defensive end Terrell Suggs (Suggs ultimately got his long-term deal last season).

For more NFL news, rumors and analysis, follow @cbssportsnfl on Twitter and subscribe to our RSS Feed .