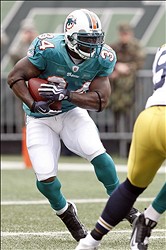 Dolphins running back Ricky Williams is 33. There has been speculation that the 2010 season could be his last. Armando Salguero of the Miami Herald points out, there is recent Twitter evidence suggesting this is the case.

There were rumors that Williams would be doing a reality TV show in 2011. However, Williams posted on his Twitter account, "I am NOT doing a reality TV show. I am beginning discussions [for] a potential travel show."

Salguero writes:

So what does this have to do with the decision to play beyond 2010 or not?

As Williams added with another tweet, the travel show work would begin in February of 2011 after the NFL season is over.
And that means if the show gets off the ground and is a success, Williams would find himself doing something he once decided he loved more than football. Williams would essentially be doing what he did in the fall of 2004 when he retired from football and traveled around the world.

Except this time Williams would be getting paid.

--Andy Benoit

For more NFL news, rumors and analysis, follow @cbssportsnfl on Twitter and subscribe to our RSS Feed .